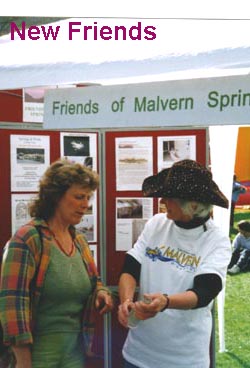 xFriends of Malvern Springs and Wells

incorporating the former Well Wardens
magisters: Cora Weaver & Bruce Osborne
correspondence to:
Tower House, Tower Road, Tadworth
Surrey
United Kingdom
KT20 5QY
Telephone: 01684 561215


It was in 1992 that serious research was started to catalogue and promote the springs and wells heritage of the Malvern Hills. There are now about 130 recorded, celebrated Springs, Spouts, Fountains and Holy Wells sites. Many of the famous sources are still running and others have been restored as a result of local effort.

Visitors, travelling upward of 100 miles, and locals alike collect the refreshing spring water and opinions vary as to which is supposedly the most likeable. In spite of this a few are now dry or no longer available to the public, but will perhaps be again one day, as a result of the efforts of Friends of Malvern Springs and Wells.
Friends of Malvern Springs and Wells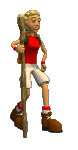 Friends unite those with an interest in Malvern's Springs and Wells under a single common identity. This includes the former Well Wardens. As a result Friends now represent the premier interest group. Friends are kept informed about what is going on with our mailed Newsletter and can participate in the various activities and projects. We make a nominal charge of £6.00 for 4 for the Newsletter but other than that there is no membership fee or onerous rules to comply with when you are a Friend.
OUR MISSION STATEMENT - Friends are totally independent, a status that we value. We are pleased to work with all who have a positive interest in Malvern Springs and Wells. Friends promote research, conservation and celebration of the Springs, Spouts, Fountains and Holy Wells of the Malvern Hills and of Great Malvern as a Spa Town. We especially welcome the past and present support given by the local community. For more details click "JOIN FRIENDS" below. 


FRIENDS - Contact the above address for details of activities or send an email. In the meantime mark the dates in your diary and let us know if you would like to be added to our list as a Friend of Malvern Springs and Wells. You will then be kept updated with our Newsletter.

CLICK WEB SITE BELOW TO GO TO OUR MAIN SITE AT





Email: springs@malvernspa.com (click here to send an email)


Website: Click Here

ADDITIONAL INFORMATION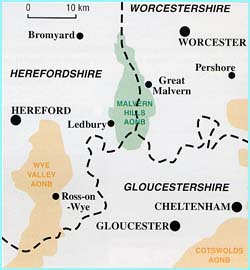 Located in the rural West Midlands, there are many ways of finding out about the Springs and Wells of The Malverns. The most popular is to explore the Hills on foot, by bicycle or motor vehicle, and discover each site first hand. To help explorers there is a postcard map detailing the main sites, or you can purchase Springs, Spouts, Fountains and Holy Wells of the Malvern Hills. This book contains historical information about each site as well as location maps. Another useful aid to exploring town centre water features is the Great Malvern Water Trail, which includes a map as well as historical and modern day pictures and information. Both books, maps and cards are available from the Tourist Information Centre in Great Malvern and from numerous bookshops and cafeterias around the Hills or can be purchased from our web site by clicking below.
---

CLICK HERE FOR A HISTORY OF THE SPRINGS AND WELLS MOVEMENT IN MALVERN
---

CLICK to JOIN FRIENDS
---

CLICK to find out about the St WERSTAN'S AWARDS for the ENHANCEMENT OF WATER HERITAGE.
---

CLICK HERE FOR DETAILS OF MALVERN BOOKS BY POST DIRECT FROM THE PUBLISHER
---

CLICK HERE TO GO TO OUR LISTING OF THE SPRINGS AND WELLS
---

CLICK HERE FOR MISLEADING SLIP-UPS
---






LANDSCAPE

Quality Natural Environment, Woodlands or Forest

REGION

England - Central

THE FEATURES PRESENT

GRADED TWO