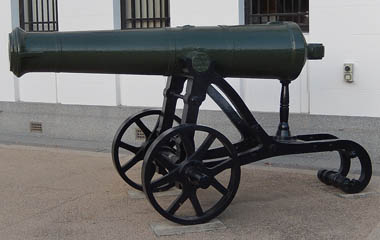 CRIMEAN CANNONS - WHERE ARE THEY NOW?

Torrens Parade Ground
Victoria Drive
King William Street
Adelaide
South Australia
Australia


Adelaide has two captured Russian war trophy 36-pounder field cannons on their carriages from the Crimea War. On the top of the barrel is the embossed insignia of the Royal House of Russia.

At the end of the Crimean War, a large number of trophies were supplied to Britain and distributed to cities and towns in the United Kingdom and her Empire. An address to the House of Commons during 1863 provides a list of 1165 Russian guns taken at Sebastopol.

Each colony, except Western Australia, was awarded a pair of Russian trophy guns. Adelaide's two trophies were first installed in the Botanic Gardens during February 1859. In 1867 they were used to announce the arrival of the Duke of Edinburgh.

Some time later, they were removed from the gardens and were handed over to the military authorities, which placed them in front of the armoury, which was located on North Terrace.

One of the guns was fired daily as Adelaide's time signal for midday.

In the mid 1930s, they were moved to their present position on the Torrens Parade Ground. They were subsequently moved to the Keswick Army Barracks but were returned to the Torrens Parade Ground in 2004 where they are currently on display. The cannons are located either side of the main entrance to the Torrens Drill Hall.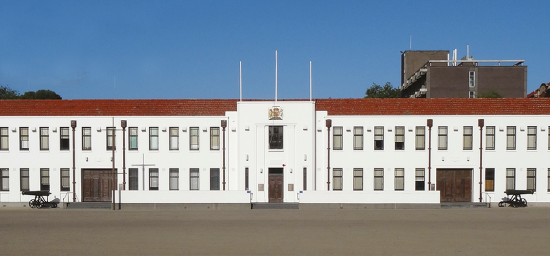 Above: The cannons at the Torrens Parade Ground; they were repainted in March 2014.

The Robins database records the following:
1. No. 19186 of 1824 a 24pdr from Alexandrovski Works directed by Foullon overall weight 120puds.
2. No. 21112 of 1828 a 24pdr from Alexandrovski Works directed by Foullon overall weight 120 puds.

For more details click website below.




Website: Click Here

ADDITIONAL INFORMATION













CONSTRAINTS

Not open to the public, On private property

LANDSCAPE

City Centre

REGION

Located outside the United Kingdom

THE FEATURES PRESENT

Crimean Cannon Location, past or present