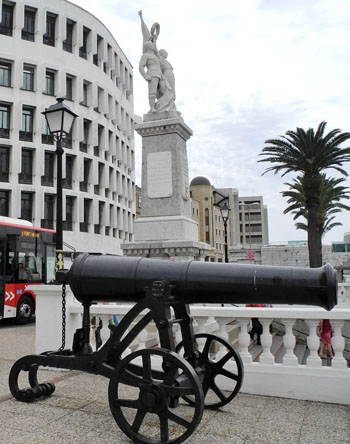 CRIMEAN CANNONS - WHERE ARE THEY NOW?

British War Memorial
Line Wall Road
also The Alameda Gardens
Red Sands Road,
Gibraltar
GX11 1AA
Telephone: +350 20041235

Gibraltar posses four iron Crimean Cannon. Two pieces of artillery are located at the entrance to the Gibraltar Botanic Gardens, also known as the Alameda Gardens. The other two are near the Gibraltar War Memorial, a First World War monument located on Line Wall Road. Also known as the British War Memorial, it was sculpted by Jose Piquet Catoli of Spain and unveiled in 1923. Adjacent to the monument are the two Russian guns that were captured during the Crimean War.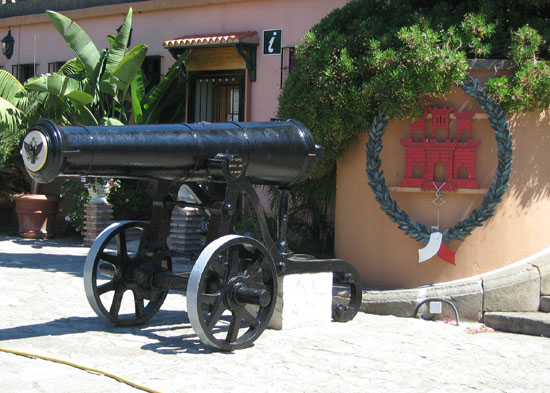 The inscription reads: "These Four Russian Guns, Captured in the Crimea 1854 - 1856, Were Presented to Gibraltar by the British Government 1858." The guns were given to Gibraltar in 1858 for its assistance during that conflict. With the clearing up of operations following the conclusion of hostilities, the future of the cannon so captured was being debated. Panmure cabled his concerns with the practicalities of withdrawal, and he was still inclined not to bother with any but usable or superior brass guns. "All the heavy and serviceable siege guns can be packed at Malta and Gibraltar, and I venture once more to suggest to you that all unserviceable iron ordnance should be carried in lighters outside the harbour of Balaclava and there consigned to the deep". In February 1855, Lord Panmure had joined Lord Palmerston's cabinet, filling the new office of Secretary of State for War. He held this office until February 1858. He was at the War Office during the concluding period of the Crimean War, and met a good deal of criticism. Fortunately his proposals regarding the cannon who not pursued and such prized possessions were not disposed of in the manner suggested.

The Robins/Hennessy database records the following:
1. 19698 of 1825 a 24pdr Alexandrovski Works under Foullon 120 puds
2. 19740 of 1825 a 24pdr Alexabdrovski Works under Foullon 120 puds
3. 20335 of 1826 a 24 pdr Alexandrovski Works under Foullon.
4. 20997 of 1827 a 24 pdr Alexandrovski Works.


Although the guns were made in Russia, the Directors of the Alexandrovski Factory from 1777 to 1843 were British. This situation was brought about by Catherine II as her Russian engineers had not mastered the technique of casting as well as the British had. The four guns in Gibraltar were cast under the supervision of one Alexander Foullon who served from 1818 to 1833 and the details can be found on the trunnions.


Email: info@gibraltargardens.gi (click here to send an email)


ADDITIONAL INFORMATION













FACILITIES

Access all Year, Access by Road, Access on Foot

LANDSCAPE

City Centre, Park or Garden

REGION

Located outside the United Kingdom

THE FEATURES PRESENT

Crimean Cannon Location, past or present