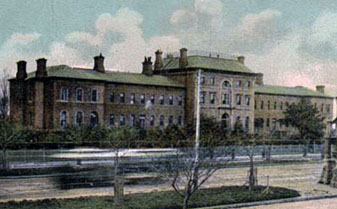 CRIMEAN CANNONS - WHERE ARE THEY NOW?

Victoria Barracks
St Kilda Road
Southbank
Melbourne
Victoria
Australia
VIC 3006


Right: Victoria Barracks circa. 1900. The Victoria Barracks construction started in 1856, contemporary with the end of the Crimean War although it was not until 1872 that it opened.

The following is a precis of an editorial on the Military History & Heritage Victoria web site. To view the entire text click web site below.

The pair of cannons flank the central front entrance of Victoria Barracks in Melbourne. Their story can be traced through the strange markings on the cannons themselves. Cyrillic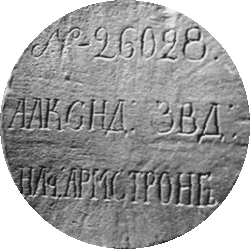 lettering reveals that they are 36 pound cannons that were cast in 1838 at the Alexander Factory. The Alexander Factory was established in Petrozavodsk in 1765 and in 1838 the director of the Factory was John 'Ivan' Armstrong, a native Scot employed by the Russian Admiralty. John's father, Adam Armstrong, had also been the director of the Alexander Factory for 12 years until 1818.

The two cannons now at Victoria Barracks were originally manufactured for the Russian Navy which underwent a significant expansion at in the early 19th century. In the defence of Sevastopol in 1854 and 1855 the Russians scuttled eight major war ships to protect the harbour. Nearly 700 ships cannons from these warships were removed and became additional artillery located in defensive redoubts around Sevastopol.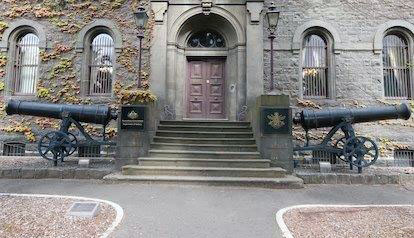 right: Victoria Barracks Melbourne entrance.




In early 1855, after a protracted siege and series of battles, the British and French forces finally overcame the Russian defenders at Sevastopol. The outcome of this battle contributed substantially to the Russians ultimate defeat in the Crimean War.

Over 4,000 artillery pieces were captured in the fall of Sevastopol. In celebration of the victory it was decided to distribute a pair of cannons seized at Sevastopol to each of the most important cities in the British Empire, including Gibraltar, Quebec, Dublin, Auckland and Melbourne.

In 1858 four pairs of captured Russian cannons were dispatched to Australia. One pair are presently located in Centennial Park in Sydney and another pair are on the Torrens Parade Ground in Adelaide. One cannon now stands outside Anglesea Barracks in Hobart and its sister in City Park in Launceston. Victoria's two trophies arrived in Melbourne's Botanic Garden during December 1858. They remained in the Gardens until April 1867, when they were moved to Victoria Barracks on St Kilda Road where they remain to this day.

Next time you walk past the two black beasts of war in front of Victoria Barracks reflect for a moment on their history and the heritage they provide to Victoria.

Principal Source - Black Beasts of War by Peter Fielding.

The Robins database records the following at Victoria Barracks:
1. 26028 dated 1838 a 36pdr Alexandrovski director Armstrong
2. 26046 dated 1838 a 36pdr Alexandrovski director Armstrong




Website: Click Here

ADDITIONAL INFORMATION













CONSTRAINTS

On private property

FACILITIES

Access by Road, Tourism Information, Weddings venue

LANDSCAPE

Urban

REGION

Located outside the United Kingdom

THE FEATURES PRESENT

Crimean Cannon Location, past or present