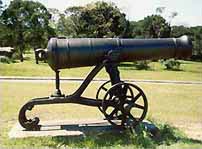 CRIMEAN CANNONS - WHERE ARE THEY NOW?

Sydney
New South Wales
Australia
Telephone: (02) 9339 6699

On either side of 'We Won' statue in Centennial Park are two imposing cannons. The sculpture is not related to any war. Cast in 1893 by Italian sculptor Tommaso Sani, this striking 2.1 metre bronze artwork is of an heroic footballer with Apollo's face. The figure stands on a cylindrical pedestal decorated with panels of rugby-playing cherubs. Eight small bronze lions surround the statue with two cannons guarding the sculpture.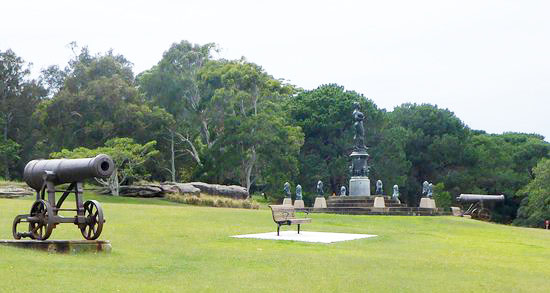 The two cannons originate from the Crimean War and were donated to Centennial Park by the Royal Botanic Gardens. Earlier they had been in The Domain, Sydney where they flanked Governor Bourke's statue near the old Bent Street entrance. They were placed in their current position in 1920 to revitalise an area which had been neglected and were restored as part of the Stone Maintenance Program in the 1990s. Robins records these guns as 31585 and 31593, the latter dated 1852 and both made at the Alexandrovski Works.

Centennial Parklands is 360 hectares of natural and built environment with many parts of the Parklands are Victorian in origin. It is considered the Parklands remains one of the world's best public inner city parklands. This was not always the case, as the vintage press cutting below shows.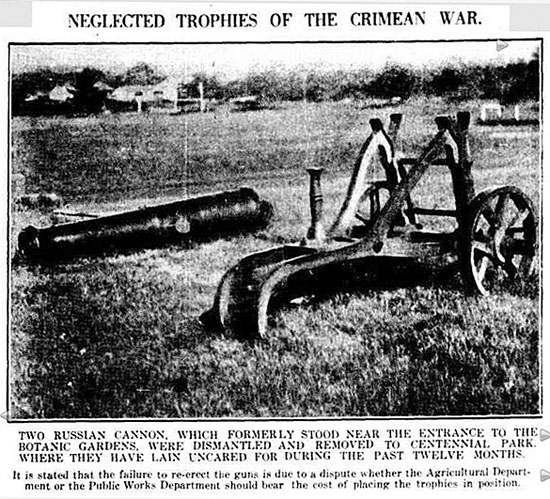 In 1917 these guns were nearly returned to Russia. On 18 January 1917, the Prime Minister Mr Hughes, wrote to the governor-general requesting him to telegraph the following message to the Secretary of State for the Colonies:

Representations have been made that Russia would very highly appreciate the return of cannon captured during the Crimean War and now held by Commonwealth of Sate Governments throughout Australia. It is thought that this would be regarded as an outward and visible sign of the inward spirit of the entente with Russia which the Russian Government and people would value very greatly. Shall be glad to learn if there is any objection to proposed action.

The Secretary of State raised no objection, but pointed out that due to a shortage of shipping tonnage, it might be difficult or undesirable to return the guns. To which the Prime Minister replied that there was no problem as Japanese tonnage was available to Vladivostok. It would appear that the October Revolution of 1917 intervened, as the Crimean trophies remained in Australia.

Click website below for more details of the Centennial Park.




Website: Click Here

ADDITIONAL INFORMATION













CONSTRAINTS

Open set times only

FACILITIES

Access all Year, Access by Road, Access on Foot, Conducted Tours of Locality, Disabled Access, Free Entry, Restaurant/Food, Toilets, Tourism Information, Weddings venue

LANDSCAPE

City Centre, Park or Garden

REGION

Located outside the United Kingdom

THE FEATURES PRESENT

Crimean Cannon Location, past or present