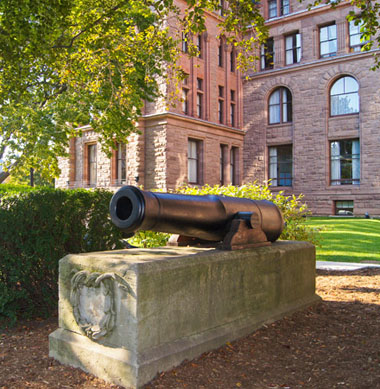 CRIMEAN CANNONS - WHERE ARE THEY NOW?

111 Wellesley St W
Toronto
Ontario
Canada




Following the Crimean War, Toronto received a fine pair of Sevastopol cannons. They installed them in 1860 in a new park, which was officially named Queen's Park in honour of Victoria. William Denby, in his wonderful book Lost Toronto, tells us that the Prince of Wales (later King Edward VII) was on hand to lay a cornerstone to Queen Victoria. Sculptor Marshall Wood created a statue of Queen Victoria. It was finally unveiled in 1871, with the Sevastopol cannons on either side.

But in 1874, when Wood submitted his invoice for $7,500, city officials were taken aback; they apparently had not realized the City would be asked to foot the bill - and such a high one at that! So they removed the statue and moved the cannons, which had formerly stood on the spot where there is now a John A. Macdonald statue, to their current positions on either side of the main entranceway to the Legislative Buildings. A new, less costly statue, was commissioned and installed in 1902.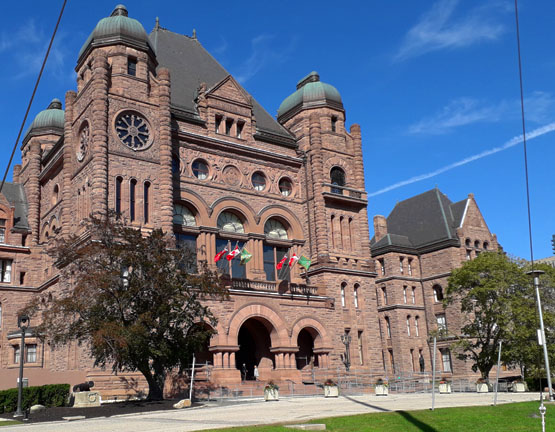 Above: the main entrance to the Legislative Building facing south with the two cannon mounted either side just visible.

Queen's Park is an urban park in Downtown Toronto. The cannon illustrated below lies southwest of the Legislative Building entrance in Queen's Park. The inscriptions on the cement base, in English and Latin, reads: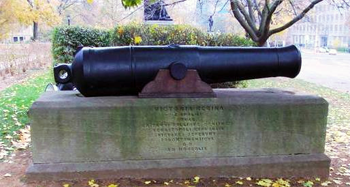 Taken at the capture of Sebastopol by the allied armies of Great Britain and France and presented by
QUEEN VICTORIA
to the citizens of Toronto
A.D. MDCCCLIX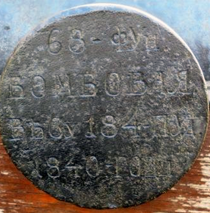 This particular gun was involved in the Battle of Inkerman, fought on the 25/6 of November, 1854. The battle was the turning point in the Crimean War. The force of the British, French and Ottomans drove the Russians back into Sevastopol. Markings indicate it was cast in 1840.

The Robins database records the following:
1. 27054 of 1840 a 68pdr Alexandrovski directed by Armstrong.
2. 29769 of 1846 a 68pdr Alexandrovski directed by Armstrong.

The above was verified during a site visit in 2019.





ADDITIONAL INFORMATION













CONSTRAINTS

Open set times only

FACILITIES

Access all Year, Access by Road, Access on Foot, Disabled Access

LANDSCAPE

City Centre, Park or Garden

REGION

Located outside the United Kingdom

THE FEATURES PRESENT

Crimean Cannon Location, past or present