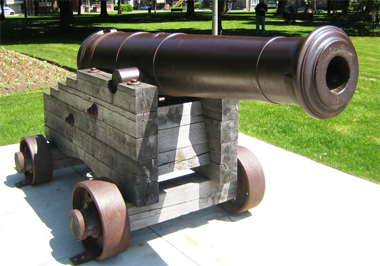 CRIMEAN CANNONS - WHERE ARE THEY NOW?

Victoria and Alexandra Parks
Dalhousie and Colborne Streets
Brantford
Ontario
Canada


Early illustrations of Victoria Park show a cannon in front of the central flagpole. For some years after it was first received there were reports that the Crimean Cannon lay unattended and half buried. It is likely that it was formerly placed in position in about 1886 coinciding with the erection of the Brant Monument in the park. The Joseph Brant Memorial cost $16,000 and was unveiled in Victoria Square in 1886. Famous British sculptor Percy Wood created the monument in memory of Joseph Thayendanegea Brant, to be erected in the centre of Victoria Park. Wood made two visits to Canada to make sketches of the Six Nations peoples. The figure of Brant and those representing the Mohawks, Oneidas, Onondagas, Cayugas, Senecas and Tuscaroras are cast in bronze. The British government donated the bronze, from cannons used at the battles of Waterloo and the Crimean War. This was in honour of Brant and the Six Nations people's support of the British during the American Revolution.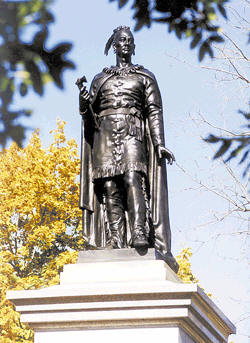 Today the memorial consists of a colossal statue of Brant, nine feet in height, two groups of three life sized figures making six in total, and two trophies flanking the sides. When the cornerstone of the monument was laid on August 11, 1886, William Cockshutt read the poem that talented Six Nations writer Pauline Johnson had written for the occasion. The monument was unveiled on October 13, 1886, and remains a centrepiece of Brantford's heritage.

It appears that the Russian cannon was without a suitable base when it arrived in Brantford in 1860. This situation prevailed until a stone or concrete base was constructed for it in Alexandra Park in 1901. Before that the cannon was on a make-do stone base in Alexandra Park, but the base did not have a foundation and sunk into the ground, so the gun ended up in the mud. This may account for the earlier reports that it lay unattended and half buried.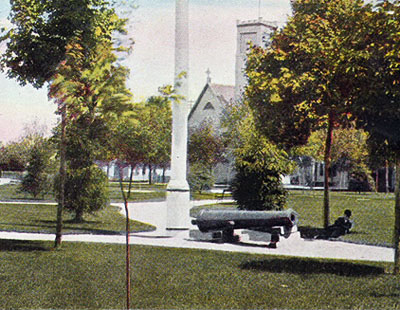 The cannon on blocks in Alexandra Park.



The cannon is of Russian Cast Iron and believed to be a 24-pounder 2.5 ton smoothbore, muzzle loading gun. It was cast by Foullon with the double-headed Eagle on the barrel. It was a Crimean War trophy, mounted on a Naval wooden wheeled carriage. The left trunnion carries the serial number 22506, the name of the maker and its director, the right trunnion is engraved with the calibre, type of gun, weight, and date of casting.

There is some confusion about when the cannon moved from Victoria Park to Alexandra Park. Today it can be found in Alexandra Park. The spot was originally designated for a statue - see top picture. Donated in 1832 by the Department of Indian Affairs for "market purposes", this park is one of the oldest parks in the City and was once known as the East Market Square.




A site visit in 2019 enabled the present location of the Crimean Cannon to be located with the assistance of Adrian, a local gentleman (see the picture above). The park is between Dalhousie and Colbourne and the cannon is easily spotted near the roadside. The trunnion indicates number 22606 which is different from previously recorded information.





ADDITIONAL INFORMATION













FACILITIES

Access all Year, Access by Road, Access on Foot, Free Entry

LANDSCAPE

Country town/village, Park or Garden

REGION

Located outside the United Kingdom

THE FEATURES PRESENT

Crimean Cannon Location, past or present