CRIMEAN CANNONS - WHERE ARE THEY NOW?

City Park
King and West Street
Kingston
Ontario
Canada


Visitors to City Park can see the statue of Sir John A. MacDonald, Canada's first Prime Minister, flanked by a pair of Russian Smoothbore Muzzleloading Guns captured during the Crimean War and presented to Canada by Queen Victoria.

The British seized some 1,500 iron SBML guns and hundreds of bronze cannon at the end of the Crimean War (1853-1856). Shortly afterwards, guns captured at the great Russian Naval base of Sevastopol in the Crimea were offered for display in towns and cities throughout the UK and the British Empire.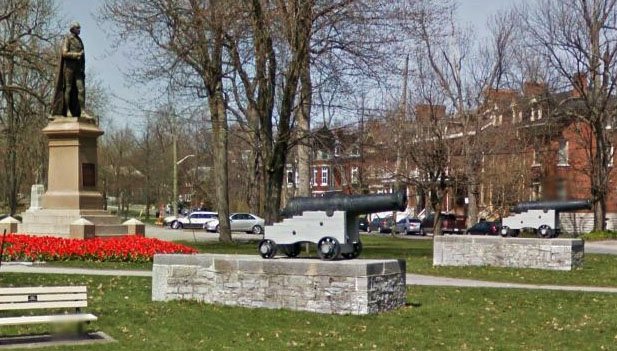 The City of Kingston received two of these guns. The Robins database records at Kingston a cannon of 1825 and another 20565 of 1826. City Park is about a 10 minute walk west of City Hall for those wishing to inspect the cannons.
ADDITIONAL INFORMATION











FACILITIES

Access all Year, Access by Road, Access on Foot, Free Entry

LANDSCAPE

City Centre, Park or Garden

REGION

Located outside the United Kingdom

THE FEATURES PRESENT

Crimean Cannon Location, past or present