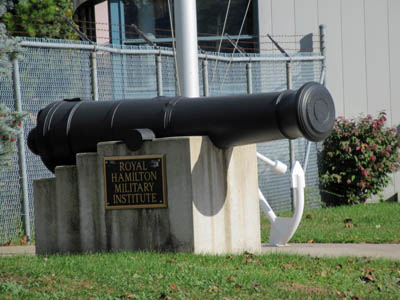 CRIMEAN CANNONS - WHERE ARE THEY NOW?

Royal Canadian Navy HMCS STAR
650 Catharine St N,
Hamilton
Ontario
Canada
ON L8L 8B4
Telephone: +1 905-972-4000



In the 19th century Hamilton started out with two cannons from the Crimean War. However one of the Russian cannons given to Hamilton was blown up by vandals using dynamite in the early 1900's.

The surviving cannon is described as a Russian Blomefield pattern 36-pounder Smoothbore Muzzleloading Gun, made by Armstrong at Alexandrovski, with double-headed Eagle, 6.75-inch gun, stamped Armstrong 1837 J68.5, (Serial No. 25457). The Robins/Hennessy database confirms a single cannon here, number 25457 dated 1837, a 36pdr from the Alexandrovski Works directed by Armstrong. A Crimean War trophy that was captured at Sevastopol in 1855, it was given to Hamilton by Queen Victoria in 1860. The Hamilton and District Officers Institute mounted the gun as a centennial project in 1967. This gun is now mounted on a concrete stand at HMCS Star.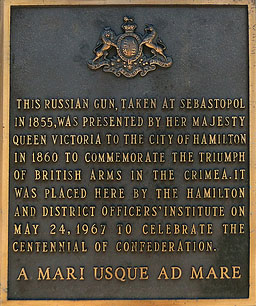 HMCS Star is a Royal Canadian Navy Reserve Division located in Hamilton, Ontario, Canada. It is the Royal Canadian Navy's oldest Naval Reserve Division being commissioned first on 31 January 1923 as the Royal Canadian Naval Volunteer Reserve Hamilton Half Company and then on 1 November 1941 as HMCS Star. The location of the cannon was confirmed by a field visit in 2019 but is not open to the public. It can however be seen from the border fence. To find the Star building and cannon head north up Catherine Street until it reverts to a track. Continue up the track and it then reverts back to a road alongside the Star base. The cannon can be seen in the middle distance by a flagpole and anchor.

There are a number of other cannons preserved in Hamilton including two at the Macdonald monument in Gore Park, both of which carry the King George III cypher.
ADDITIONAL INFORMATION











CONSTRAINTS

On private property

FACILITIES

Access all Year, Access by Road, Access on Foot

LANDSCAPE

City Centre, Park or Garden

REGION

Located outside the United Kingdom

THE FEATURES PRESENT

Crimean Cannon Location, past or present