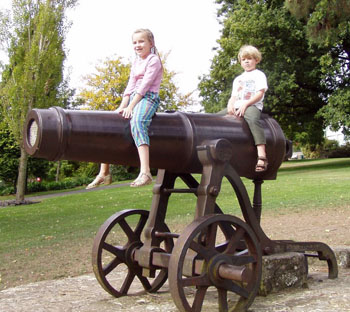 CRIMEAN CANNONS - WHERE ARE THEY NOW?

City Park
45-55 Tamar st.
Launceston
Tasmania
Australia
TAS 7250




Launceston City Park is a recreation area in Launceston, Tasmania, Australia. It was established in the 1820s by the Launceston Horticultural Society and handed over to the Launceston City Council in 1863. The cannon in City Park is often referred to as the twin sister of that in Hobart. In the late 1850s a pair of Russian carronades, trophies from the Russo-Crimean war, arrived at Anglesea Barracks in Hobart and in Launceston.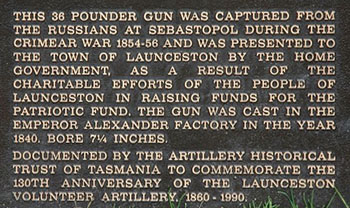 Both trophy guns arrived at first in Hobart in January 1860, but Hobart Alderman Lipscombe was upset when 'favoured Launceston' was to have one. He maintained Hobart had a right to keep the two. However, one was placed in Hobart's Franklin Square while the other was shipped to Launceston, arriving in early April.

Weighing nearly three tons, the cannon was placed in the middle of Cameron Street outside the newly-opened Launceston Mechanics Institute as part of its opening exhibition. The gun was moved from that dangerous and inconvenient spot to a council yard where it languished until 1862. The council discussed where it should be located - Prince's Square or the Horticultural Gardens? It was placed near the entrance to the Horticultural Gardens, which later became City Park. In 1878 the council moved the gun again to a corner of the old Commissariat yard, prompting several letters to the newspapers, either supporting the removal or demanding its reinstatement. The Russian gun was eventually returned to City Park to its present commanding position.

Such weapons of war prompt controversy and this impacts on where and how the cannons are displayed and preserved. Launceston was no exception to this. Some believed the gun was a barbarous relic of strife and bloodshed and should not be on public display. Others felt that it ought to be held in high esteem and allowed a place of honour. Whatever view one takes it is without doubt a reminder of the unfortunate circumstances that the weapons were used for and the loss of tragic life that ensued as a result.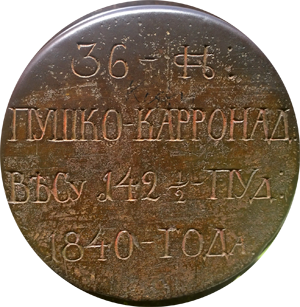 The specifications of the Launceston carronade as it is known are similar to those of Hobart. It is a 36 pounder made in 1840. The Robins database records it as follows: number 26851 of 1840 a 36pdr from the Alexandrovski Works directed by Armstrong.
ADDITIONAL INFORMATION











FACILITIES

Access by Road, Access on Foot, Part of a larger tourism attraction

LANDSCAPE

City Centre, Park or Garden

REGION

Located outside the United Kingdom

THE FEATURES PRESENT

Crimean Cannon Location, past or present