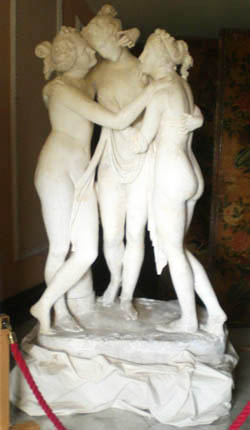 Clandon Park

West Clandon
Guildford
Surrey
United Kingdom
GU4 7RQ
Telephone: 01483 222482

A National Trust property of 7 acres, with a stately home and grotto.

Clandon Park is located near Guildford, this National Trust property comprises an 18th century Palladian Mansion stately home and gardens, formerly of the Onslow family. Within the grounds there is a substantial grotto that was once adorned by the statue of the Three Graces. The statue is now located within the mansion at the foot of the main stairs. The grotto is located to the right of the mansion, across the lawn. The main exterior building material is local flint.

Picture above right: Three Graces after Antonio Canova (Possagno 1757 - Venice 1822).

Despite its modest materials, the Clandon plaster group is no less spectacular than its more famous marble counterparts. Believed to be post 1817, it is perhaps more intriguing by virtue of its mysterious provenance. How the plaster group came to Clandon Park is undocumented, and the circumstances of its origin remain unknown.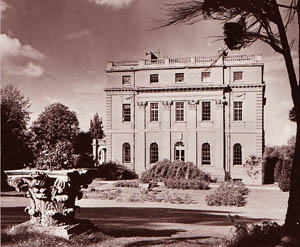 The house itself was built around 1730 - 33 to a design by the Venetian architect Giacomo Leoni, replacing an Elizabethan property. The estate had been bought in 1641 by Sir Richard Onslow, MP for Surrey. The new building was commissioned by his great-grandson Thomas, 2nd Baron Onslow.

Clandon Park's interiors, which were finished into the 1740s, feature a two-storey Marble Hall, containing marble chimney pieces by English sculptor Michael Rysbrack. The landscape gardens were designed by Lancelot Brown in 1781, to which have been added a parterre, grotto (pictured below), the sunken Dutch garden created by Frances, Countess of Onslow in the late 19th century, and a Maori meeting house named Hinemihi.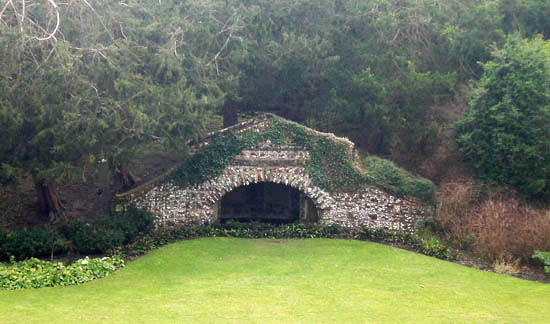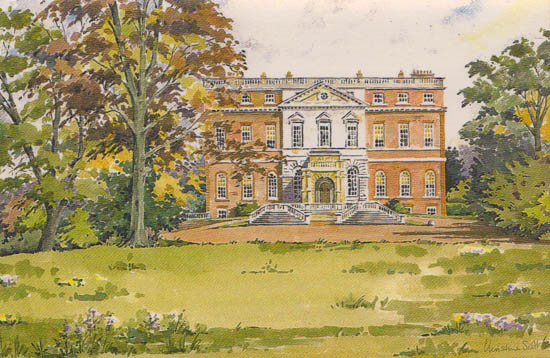 Pictures above - the grotto viewed from the house and Clandon Park, a watercolour by Christine Scott.


Email: clandonpark@nationaltrust.org.uk (click here to send an email)


Website: Click Here

ADDITIONAL INFORMATION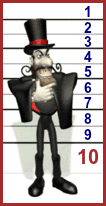 GREAT BRITISH GROTTO GRADING

Click to go to Grotto.Directory home page











CONSTRAINTS

Open set times only

FACILITIES

Access by Road, Access on Foot, Conducted Tours of Locality, Disabled Access, Grotto - just one, Restaurant/Food, Retail Souvenir Shop, Toilets, Weddings venue

LANDSCAPE

National Trust Property, Rural

REGION

England - Southern

THE FEATURES PRESENT

+A created provenance that links it to ancient mythology or legend, +Cared for and maintained in good condition, +Dark and mysterious chambers and cave like spaces, +External rock structures, either real or simulated, +Internal stonework that is natural, recycled or simulated to give a subterranean decor, +Stunning setting and location, GRADED SIX