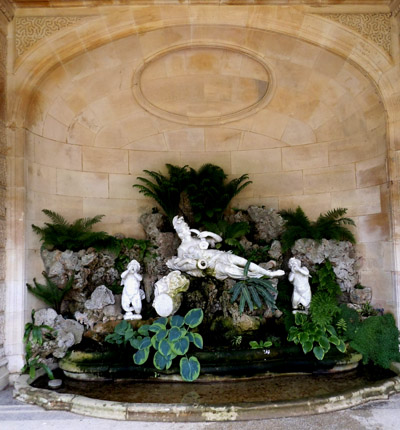 Waddesdon Grotto

Waddeston and Eythrope
Near Aylesbury
Buckinghamshire
United KIngdom
HP18 0JH
Telephone: 01296 653226

There was a manor house at Waddesdon in 1309, when it was the home of the Arch family. It was extended in 1610 by Sir William Dormer. By the late 18th century it became one of the homes of Philip Stanhope, 5th Earl of Chesterfield though he rarely used it, and it became empty and desolate.

After buying the Waddeston estate in 1874, Baron Ferdinand de Rothschild carried out major landscaping. Sculpture was key to Baron Ferdinand's vision for the garden where he used it to create a series of focal points and discoveries. A host of allegorical and mythological figures tempt you down a path or surprised you as they emerge from the shrubbery. The garden was designed to surprise and delight the Baron's guests at every turn. In his day, a garden tour would include the aviary and grotto.

In 1875 the nearby manor at Eythrope was bought by Alice de Rothschild. The background to this purchase is as follows. She was the youngest of the seven children of the German Baron de Rothschild and inherited substantial wealth. Orphaned young, she spent a lonely childhood living with various relations and eventually made her home with her widowed brother Baron Ferdinand de Rothschild. When he built his Waddesdon home, she moved in with him. They were both fastidious perfectionists, with strong wills. If she advised over the designs for Waddesdon, it is doubtful he heeded them. Hence in 1875 he encouraged her purchase of adjacent Eythrope, perhaps to give them both a little space. Subsequently the two properties boundaries have become blurred.

The lakeside grotto at Eythrope is considered to be mid C18. It is made from tufa and rough cast with pieces of quartz inserted into the structure. The grotto forms an arch over a small inlet of the lake. Artificial stalactites, stalagmites and columns add to the decor. It was likely built for Sir William Stanhope as an ornamental feature for the grounds of former Eythrope House. The grotto is listed by English Heritage as a grade II structure but is not generally available for the public to view.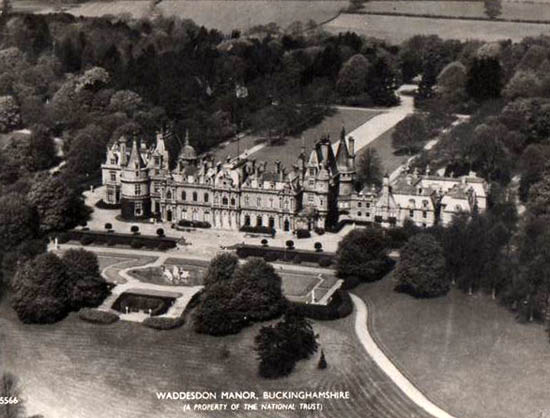 As well as the 18th century Eythrope lakeside grotto however, there is also the 19th century grotto feature at Waddesdon on the National Trust part of the estate as illustrated in the two pictures above. Either side of the this grotto there is an aviary, adding a somewhat unexpected dimension to the visitors experience.

In 1957, part of the overall estate was bequeathed to the National Trust. Later, Lord Rothschild remained in residence on the retained Eythrope portion and initiated an extensive restoration programme in 1990 to recreate the garden's original splendour.



Website: Click Here

ADDITIONAL INFORMATION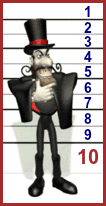 GREAT BRITISH GROTTO GRADING

Click to go to Grotto.Directory home page











CONSTRAINTS

Open set times only

FACILITIES

Access by Road, Access on Foot, Disabled Access, Entry Fee, Grottoes - more than one, Restaurant/Food, Retail Souvenir Shop, Toilets

LANDSCAPE

National Trust Property, Park or Garden, Rural

THE FEATURES PRESENT

+A created provenance that links it to ancient mythology or legend, +Cared for and maintained in good condition, +External rock structures, either real or simulated, +Sacred spring or integral water feature, GRADED FOUR