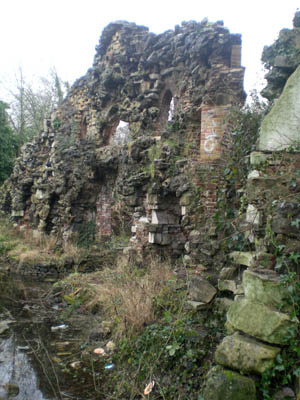 Wanstead House Grotto

Wanstead Park
Warren Road
Wanstead
Essex
United Kingdom
E12 5DG


Arthur Young visited Wanstead in 1767. For more details click on Essays above.

Wanstead House, the Palladian mansion that once stood in Wanstead Park was commissioned in 1715 by Sir Richard Child. This replaced a former Jacobean House and set out to rival the most impressive of stately homes. The house was completed in 1722. By then Childs had been made 1st Viscount Castlemaine and then in 1731 Castlemaine was created 1st Earl Tylney. The Palladian mansion had a front facade of over 200 feet, which included a portico with six Corinthian columns, as noted by Young. The grounds were landscaped utilising the adjacent River Roding to supply an extensive network of canal and lakes. In all the estate amounted to about 1400 acres. During the 19th century, financial difficulties resulted in the estate being broken up. The house contents were disposed of in the early 1820s and the house, unable to be sold, was demolished in 1825, Much of the estate land has survived and is now a woodland waterpark amounting to 160 acres. Designated a Municipal Park, it is owned by the Corporation of London. Young visited the locality when on his way to Ilford. He was very complimentary about the mansion but less so about the contents and decoration.

Of all the houses that Young visited, Wanstead, in his opinion, was one of the noblest with its ballroom and four state apartments superior in that respect to Houghton, Holkam, Blenheim or Wilton. Architecturally he considered it stood second to Holkam. In the grounds, a grotto was built about 1760 by John, 2nd Earl Tylney. The earlier picture by Roque suggests that the grotto was older but it may have been modified in the 1760s , possibly to accommodate a boat entrance. The detail of the grotto at this time however was not recorded by Young but elsewhere. An 'Inscription for the Grotto in Earl Tilney's Garden at Wanstead' was written in 1764, and in another report of the same year '... the Earl of Halifax, together with the French Embassador, and twelve or fourteen other Noblemen of distinction, went to view the seat of the Right Hon. Earl Tilney, and the gardens, with the curious grotto at the bottom of them.'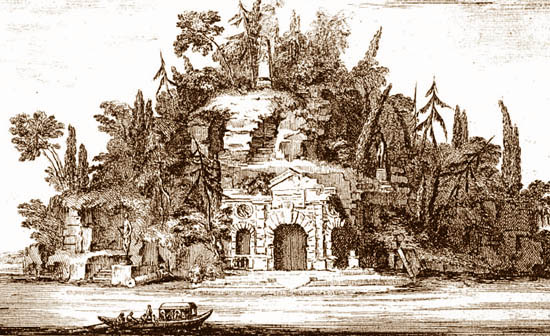 A view of the grotto, from Roque's 1735 map


The principal features of the Grotto were listed as a rough facade, open central arch flanked by a niche and an arch each side, windows with a hint of the Gothic style, a lakeside causeway, the facade was decorated with various fragments of carved stone and other artefacts, boathouse below, access from the lake and a space for storage and for the repair and tarring of boats, domed top-lit chamber above, entrance passage from the side, steps by the lakeside and a lodge for a keeper facing towards the woods and covered with creeping plants.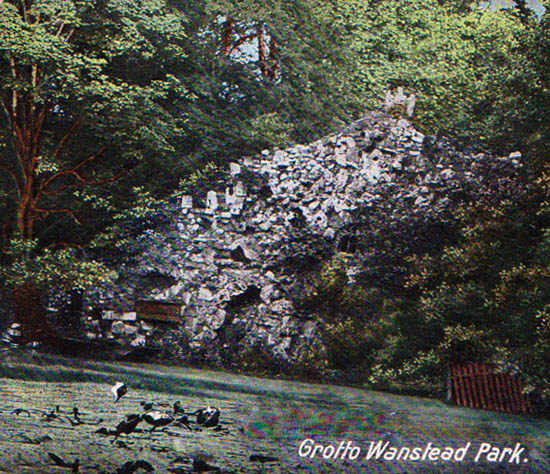 The Grotto in 1907; a punt can be seen moored on the left and there is an eagle on the summit.


Another report recorded other details. In April 1776, Samuel Curwen noted that one came across the grotto, 'formed of earth, stone stumps etc. excavated ... into a room about 15 feet in diameter' with a concave roof and 'balcony of glass windows forming a skylight' the roof and walls covered with 'shells, stones petrifyed substances' ... the flooring of 'small pebbles not bigger than the top of one's thumb of a variety of colours and figures'. Commented on the keeper's apartment, 'a beautiful little room or rooms', one 'lined with irregularly laid stones as if dug out of mines'. There was an octagonal lantern with eight squares of stained glass of a 'beautiful yellow tint', a floor paved in fancy work with black and white pebbles, two convex mirrors and two plates of mirror glass 'very judiciously placed for reflecting the opposite objects', which included ostrich eggs, 'petrified stones', and terracotta and wax figures.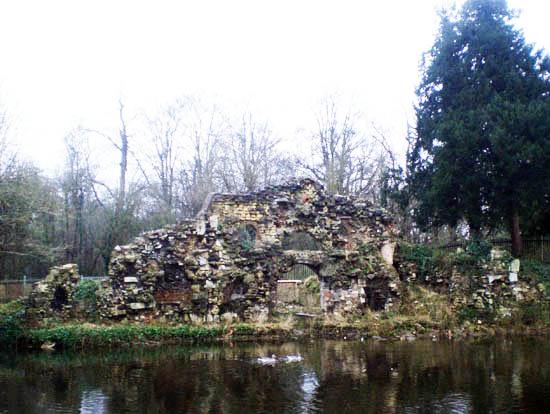 The Grotto in 2014


The grotto survives to this day, albeit a ruin in the modern day Epping Forest Municipal Park. Being located on the extensive system of lakes within the original grounds, the grotto once provided a point of embarkation to those taking a boat to explore the ornamental canal and lakes. Built of red brick, it was decorated with a variety of limestones and other materials. Unfortunately the grotto building was burnt down in 1884, leaving a ruin. Today the area resembles a nature reserve rather than a sculptured garden landscape. The ruined grotto provides a startling surprise and contrast for the explorer of this woodland water park. Many would like to see the grotto restored to its former glory and a Friends of Wanstead Parklands organisation is actively seeking support (click Website below). Some restoration and exploratory work has been carried out in more recent times and artefacts recovered are on display at the Temple building in the park. The grotto is now a listed building.

Sources used in the above include: THE GREAT GARDENS OF WANSTEAD PARK by Dr. Sally Jeffery, of Birkbeck College.

Illustrations:

1 - 4 Park entry sign and the Grotto in January 2014.
6. Roque's illustration 1735.
7. The Grotto in 1907.
8. The Grotto 2014.
9. Park sign map indicating the position of the grotto.



Website: Click Here

ADDITIONAL INFORMATION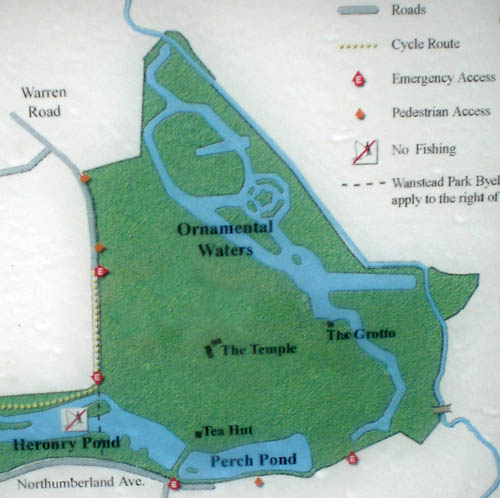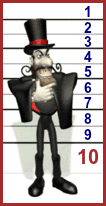 GREAT BRITISH GROTTO GRADING

Click to go to Grotto.Directory home page











FACILITIES

Access all Year, Access by Road, Access on Foot, Disabled Access, Free Entry, Grotto with extensive rock gardens, Restaurant/Food, Toilets, Tourism Information

LANDSCAPE

Urban

REGION

England - Central

THE FEATURES PRESENT

+Crystals and/or minerals, either natural or simulated, +Dark and mysterious chambers and cave like spaces, +External rock structures, either real or simulated, +Internal stonework that is natural, recycled or simulated to give a subterranean decor, +Stunning setting and location, +Viewing points from within to an intriguing landscape outside, GRADED SIX