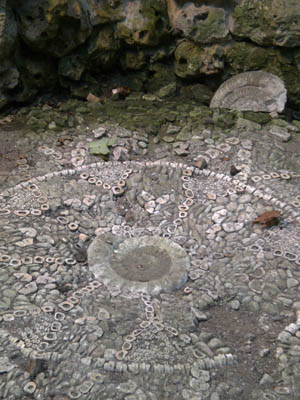 Prior Park Landscape Garden Grotto

Prior Park Road
Bath
Somerset
United Kingdom
BA2 5AH
Telephone: 01225 833977

Prior Park Landscape Garden is part of the original grounds of Prior Park, Bath. This magnificent stately home is now a school that overlooks the gardens and the City of Bath. It was all created by Ralph Allen (died 1764), a local entrepreneur in the 18th century. Allen became mayor of Bath in 1742, having started off working in the post office. Much of the "Bath stone" so prevalent in Bath came from Allen's limestone Combe Down and Bathampton Down Mines. After his death the gardens were abandoned and left to nature. Now the National Trust has responsibility for the Landscape Garden and is steadily restoring it to its former glory.
Images right -
1. The ornamental flooring of the grotto.
2.The Rock Arch, once part of an elaborate grotto.
3. The external water cascade, by the grotto.
4. Inside the protective shed.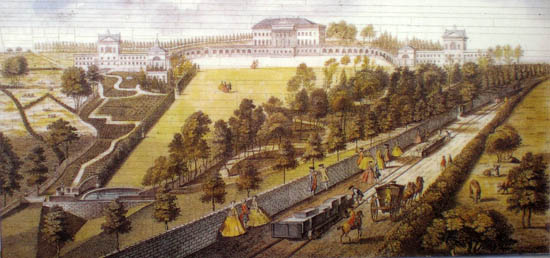 The Park under construction in the mid 18th century.


Alexander Pope who had his own grotto project alongside the Thames at Twickenham, was a friend of Ralph Allen and a frequent visitor to the Park. Pope first visited in 1737, and later refers to "Mrs Allen's grotto and cascade" in a letter in 1740, at which time it seems that these were not completed. He participated in the design and layout which was influenced by the then new natural style.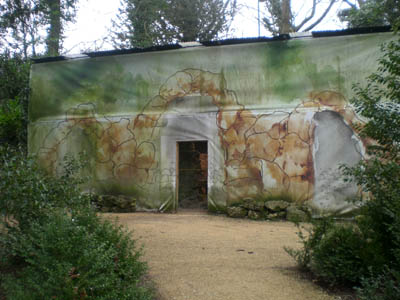 Pope encouraged Allen's wife to take an interest in the grotto hence it became known as Mrs Allen's Grotto as well as Pope's Grotto. Their Great Dane dog called "Miss Bounce", given by Pope, is buried beneath the floor.


Left - The protective shed that houses the remains of the grotto which is Grade II listed by English Heritage.
The remains of the grotto which dates from c.1740, was believed to have been created by Richard Jones. The stonework includes tufa or sponge stone. One surviving rough arch, rising to about 3m, has, to its left, a small rectangular opening in the attached walling. Some plans show a rectangular building. The remains of walling at present exposed up to heights of 1m, in ashlar or tufa, form a rough rectangle, about 2.5m in depth and 7m to 8m wide. In 1836 a pupil at Prior Park Seminary refers to a "...dazzling assemblage of shells, fossils, minerals etc...." in the roofing. Recent excavations have also revealed some pieces of slate in the general debris, possibly part of the former external roof covering.

The Grotto is now a ruin protected by a temporary shed structure. Visitors can enter the shed where the eroded limestone rock work and decorative flooring can be inspected.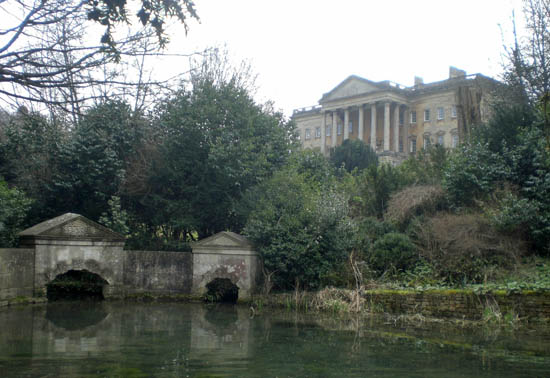 The imposing Prior Park House overlooks the gardens.
Access to the gardens is quite difficult in that there is no car parking space except for disabled visitors. The Trust recommend that visitors make their way up the hill from Bath, leaving their vehicles in the city.

Email: priorpark@nationaltrust.org.uk (click here to send an email)


Website: Click Here

ADDITIONAL INFORMATION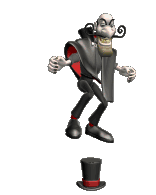 GREAT BRITISH GROTTO GRADING

Click to go to Grotto.Directory home page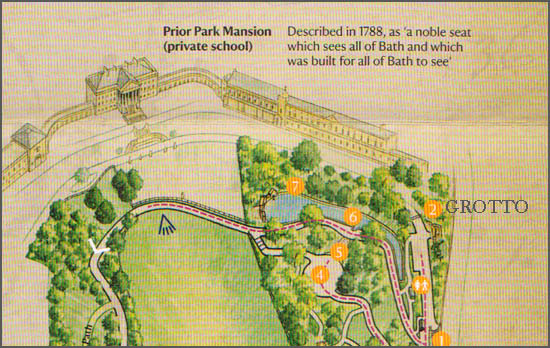 FACILITIES

Access all Year, Access on Foot, Disabled Access, Entry Fee, Grotto - just one, Restaurant/Food, Toilets

LANDSCAPE

National Trust Property, Park or Garden, Upland

REGION

England - Southern

THE FEATURES PRESENT

+External rock structures, either real or simulated, +Fossils and/or shells incorporated into the decor, +Internal stonework that is natural, recycled or simulated to give a subterranean decor, +Sacred spring or integral water feature, +Stunning setting and location, GRADED FIVE