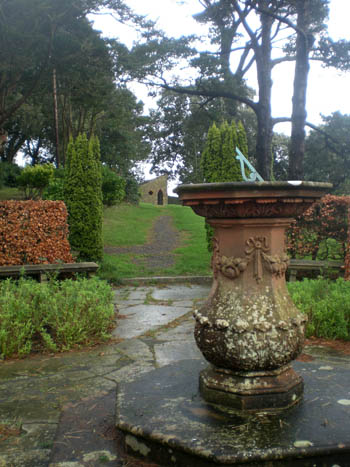 Tapley Park Grotto

Westleigh
Bideford
Devon
United Kingdom
EX39 4NT
Telephone: 01271 860897 or 01271 860370

Tapeley Park is a historic estate in the parish of Westleigh in Devon, UK. The present mansion house known as Tapeley Park is a grade II* listed country house, built or enlarged from an existing structure in about 1704, remodeled in the 19th century and again in the early 20th century when pilasters, portico, pediment and parapet were added to create a Queen Anne style building.


Pictures above right - The Shell House Grotto at Tapley Park from a distance; the Shell House close up; the interior with damaged shell work.






Picture left - Tapley Park House
In the mid 19th century the estate was inherited from the Clevland family by William Langham Christie of Glyndebourne in Sussex. His grandson was John Christie (born 1882), the founder of Glyndebourne Opera Festival, who bequeathed Tapeley to his daughter Rosamund Christie (1933-1988), who passed it onto her nephew Hector Christie (born 1963), who briefly turned it into a hippie commune. In 2011 Tapeley Park was the subject of an episode of the Channel 4 television programme Country House Rescue, presented by the hotelier Ruth Watson, who advised on restoring the estate to a sound financial position.

The Shell House Grotto is of uncertain origin but is generally thought to be 18th century. A distinctive element of the decoration was the rustic branches around the door which have disappeared in recent years. The roof interior is in poor condition with the supporting timberwork well decayed. In addition the stonework is crumbling in a number of places. This grotto needs restoration before it gets beyond repair.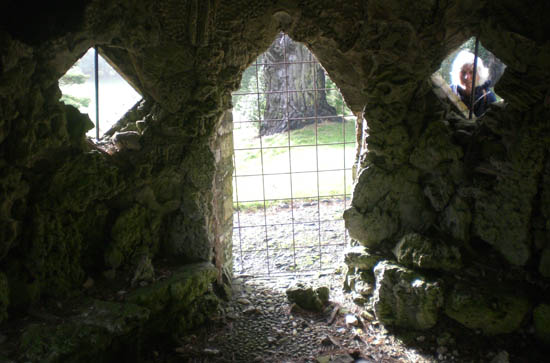 Picture above - the rugged interior of the Shell House Grotto with lookouts.
The garden is open to the public on a regular basis and features Italianate terraces, a working kitchen garden and a permaculture garden. The estate, now mainly owned by the Christie Devon Estates Trust,(trustees of the Christie family), comprises about 6,000 acres.

Email: hector15@btinternet.com (click here to send an email)


Website: Click Here

ADDITIONAL INFORMATION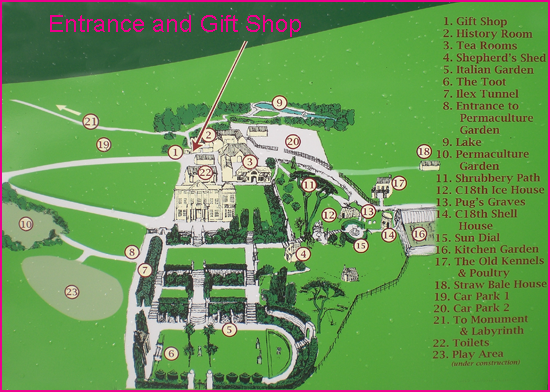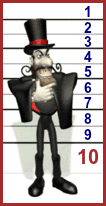 GREAT BRITISH GROTTO GRADING

Click to go to Grotto.Directory home page










CONSTRAINTS

On private property, Open set times only

FACILITIES

Access by Road, Access on Foot, Disabled Access, Entry Fee, Grotto - just one, Retail Souvenir Shop, Toilets

LANDSCAPE

Country town/village, Park or Garden, Rural

REGION

England - Southern

THE FEATURES PRESENT

+Dark and mysterious chambers and cave like spaces, +Fossils and/or shells incorporated into the decor, +Internal stonework that is natural, recycled or simulated to give a subterranean decor, +Stunning setting and location, +Viewing points from within to an intriguing landscape outside, GRADED FIVE