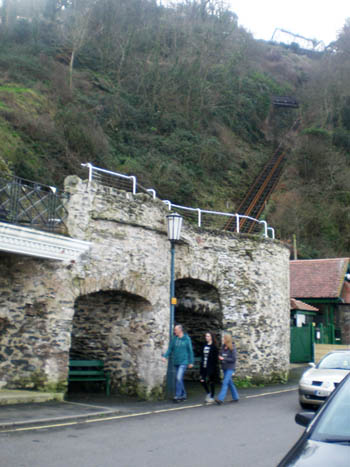 Lynmouth and Lynmouth Cliff Railway and Grottoes

The Esplanade
Lynmouth
Devon
United Kingdom
EX35 6EQ


Lynmouth is the port for the town of Lynton above the harbour, and the two are connected by a water driven Cliff Railway. The Rhennish Tower, a lighthouse, lies at the mouth of the harbour.

On the sea front adjacent to the lower end funicular railway station at Lynmouth lies a substantial structure built from natural stone. Within this are several grottoes, adapted to provide seating. Atop these is a roof garden seating area for a local cafeteria. The origin of these largely unnoticed yet intriguing features is that they are two limekilns. Whitewashed, they are set into the base of the steep cliffs overlooking the Western Beach. Lime kilns were first documented here in 1698, but only one kiln is shown on an 1824 map of Lynmouth; the second is presumably a later addition, possibly linked to the construction of the Cliff Railway. They were last used in the early 20th century.

In the 19th century, the high cliffs separating Lynton from Lynmouth were a major obstacle to economic development. The twin villages mainly relied on sea transport because land travel was extremely difficult over Exmoor. Essential supplies arrived at Lynmouth in sailing vessels, and were carried by packhorses or in horse drawn carts up the steep hill to Lynton. As the 19th century progressed the cliff that separated Lynton and Lynmouth remained a daunting prospect for tourists visiting the resort in ever increasing numbers. To resolve this problem the Cliff Railway was finally opened on Easter Monday 1890.

On the other side of the Lime Kilns is The Pavilion. It was constructed in 1931 for the town council to a design by A J Gibbs, using steel framed construction. It is of two stories with a hipped roof and a gabled central bay flanked by an open veranda to the first floor. The original structure escaped the floods of 1952 but has recently been rebuilt as a visitor centre for the Exmoor National Park.

For more details on the Lime Kilns click on Website below.



Website: Click Here

ADDITIONAL INFORMATION

As you leave Barnstaple on the Goodleigh Road, you pass Gorwell Road on your left after about three quarters of a mile. A few hundred yards further on there is a drive to your left at the end of the modern housing. This drive leads to Gorwell House, which can be seen on the overlooking hill to your left.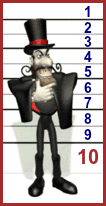 GREAT BRITISH GROTTO GRADING

Click to go to Grotto.Directory home page










FACILITIES

Access all Year, Access by Road, Access on Foot, Disabled Access, Free Entry, Grottoes - more than one, Restaurant/Food

LANDSCAPE

Coastal, Urban

REGION

England - Southern

THE FEATURES PRESENT

+Cared for and maintained in good condition, +Dark and mysterious chambers and cave like spaces, +External rock structures, either real or simulated, +Internal stonework that is natural, recycled or simulated to give a subterranean decor, +Stunning setting and location, GRADED FIVE