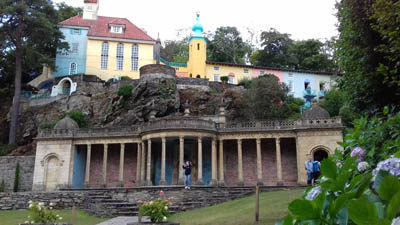 Portmeirion

Minffordd
Penrhyndeudrdraeth
Wales
LL48 6ER
Telephone: 01766 770000

Portmeirion as we find it today is the twentieth century creation of architect Clough Williams-Ellis (1883 - 1978). This secluded Welsh coastal valley enabled him to develop a complete village of buildings that reflect a variety of distinct architectural styles. This resulted in a locality that stretches the imagination; one minute you appear to be in an ancient Mediterranean resort and the next a 17th century English country estate. Extensive use is made of recycled architectural features from long gone buildings elsewhere. Castles, towers, colonnades and docks all add to the confusion of edifices that make up Portmeirion.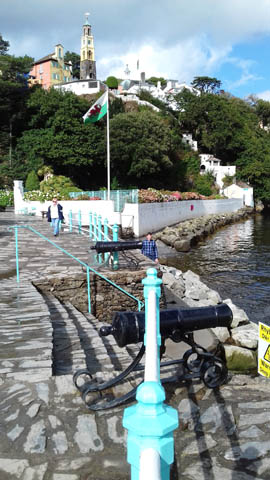 Pictures above: General view showing the colonnade rescued from the derelict Bristol Spa; the circular grotto on the cliff top; the grotto interior; the ancient cannon in the replica castle.

Inevitably there is a grotto in the complex. This is located at the top of the sea cliff on the southern side and offers views both across the village and along the coastal waters. The view is enhanced by a dock with cannon and a hotel down along the foreshore.

Picture left: the coastal dock and cannon.

The grotto itself is of concrete construction with barred windows that give stunning views. Inside shells adorn the walls and ceiling and there is a fountain, albeit without water. The grotto could equally have been developed as a replica Second World War gun battery but this was not to be. The cannon are down on the dock and a single one in the castle creation to the north.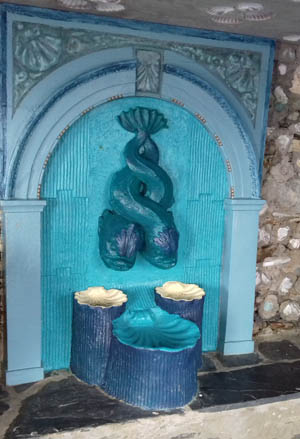 The whole village is listed as Grade I and comprises some 70 acres. In the past it has made an imaginative film set as well as a resort that stars and famous people could retreat to with little contact with the outside world. The site is managed by a registered charity and admission for the public is on a charged basis.

Picture right: the fountain in the grotto.




Email: post@portmeirion.cymru (click here to send an email)


Website: Click Here

ADDITIONAL INFORMATION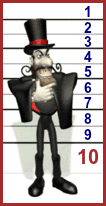 GREAT BRITISH GROTTO GRADING

Click to go to Grotto.Directory home page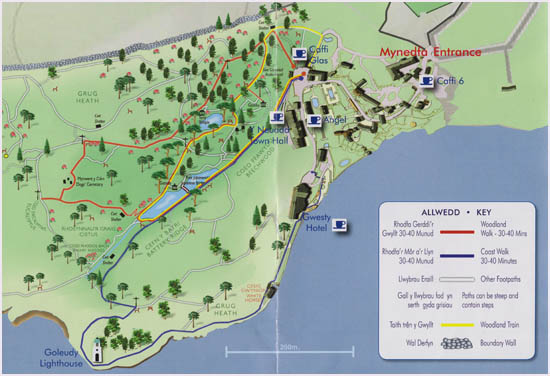 CONSTRAINTS

No Pets, Open set times only

FACILITIES

Access all Year, Access by Road, Access on Foot, Conducted Tours of Locality, Disabled Access, Entry Fee, Grotto - just one, Grotto with extensive rock gardens, Part of a larger tourism attraction, Restaurant/Food, Retail Souvenir Shop, Toilets, Tourism Information, Weddings venue

LANDSCAPE

Coastal, Country town/village, Upland

REGION

Wales

THE FEATURES PRESENT

+A created provenance that links it to ancient mythology or legend, +Cared for and maintained in good condition, +Dark and mysterious chambers and cave like spaces, +External rock structures, either real or simulated, +Fossils and/or shells incorporated into the decor, +Internal stonework that is natural, recycled or simulated to give a subterranean decor, +Stunning setting and location, +Viewing points from within to an intriguing landscape outside, GRADED EIGHT