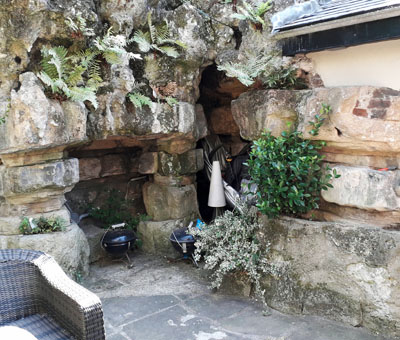 Clapham Park Grotto

138 New Park Road
Clapham Park
South London
Surrey
Great Britain
SW2 4LW


The Victorian Grotto at 138 New Park Road was created in conjunction with a major 19th century development initiative of the countryside between Clapham Common and the Brighton Road to the west by Thomas Cubitt, who lived in Clapham and laid out Clapham Park.

THOMAS CUBITT AND CLAPHAM PARK

Thomas Cubitt, the 19th-century builder responsible for London's Belgravia, Queen Victoria's Osborne House on the Isle of Wight and the enlargement of Buckingham Palace, chose Clapham both for his home and as the place to experiment with a new housing development for a rich clientele.

His Clapham Park 'estate', developed between 1825 and the 1860s, consisted of mansions and villas, each within spacious grounds, set alongside wide and tree-lined roads. These are the roads that are now known as Poynders Road, Atkins Road, Thornton Road, New Park Road, Weir Road, Clarence Avenue and Kings Avenue.

Since most of the original Clapham Park houses have now fallen victim to later developments and been swept away, it is difficult to get the flavour of what an 1893 guidebook described as 'one of the most favoured residential quarters of South London'. Nevertheless, some Clapham Park houses do survive.

THE 'EMPEROR' OF THE BUILDING TRADE

Thomas Cubitt (1788-1855) was a carpenter by trade, but one with entrepreneurial flair and business acumen who saw the potential for speculative building in the ever-growing metropolis. By the time he was 24 Cubitt was dabbling in small-scale speculative ventures but the turning point in his career came in 1815 when he was awarded the contract to build a new headquarters for the London Institution (a literary association). This was a very large contract for the time, requiring many additional services, such as plumbers and electricians. Rather than rely on subcontractors, whom Cubitt knew from previous experience to be unreliable, Cubitt set up his own business employing a complete staff of building tradesmen and civil engineers and attracted backers to finance him. The gamble paid off; his company, which combined contract work with speculative development, flourished and Cubitt amassed a vast fortune.

'Spec builder' may no longer be considered a term of endearment but there was nothing shoddy about Cubitt's workmanship. Not only were his houses well built, but he paid particular attention to the infrastructure providing good quality roads and efficient drains, at a time when London's sewerage system left a lot to be desired.

Cubitt is probably best remembered for his 'Pimlico Palaces' in Belgravia and for his work on the Royal residences, but he is generally acknowledged to have been the greatest developer of his time, responsible for many more modest London housing developments. He also made a valuable contribution to town planning issues and was instrumental in the badly-needed reform of sewage disposal, the great enemy to public health. The Builder mourned Cubitt as a 'great builder and a good man'. The Queen described his death as 'a real national loss'.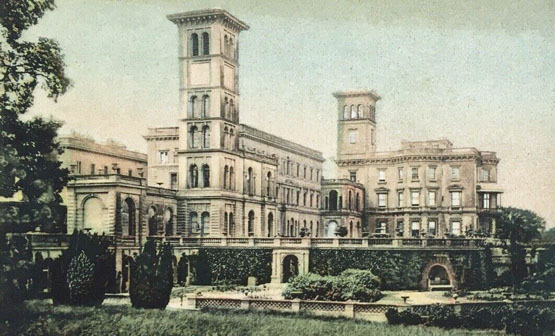 THE CLAPHAM PARK ESTATE

In 1825, the same year that Cubitt was negotiating the lease for the swampy fields which were to become Belgravia, he leased 229 acres in Clapham from the Atkins-Bowyer family (lords of the manor). This land, lying to the south and east of the all-ready-fashionable Clapham Common, included the standing buildings of Bleak Hall Farm (shown on Rocque's 1745 map). To provide good communication from his new estate Cubitt bought several other small pieces of land to improve the roads that linked Clapham Park to the main London and Brighton roads, like the winding Dragmore Lane connecting Clapham Park to the Common, which became Cavendish Road.

The plots in Clapham Park were laid out for detached villas standing in grounds of between half an acre and three acres, usually with stabling attached, and for larger mansions set within many acres. Since the land was very barren, Cubitt embarked on an ambitious scheme to enhance his 'garden suburb' by planting trees and shrubs. It was a shrewd investment since Clapham Park came to be admired for its quiet and verdant aspect '...the foliage and the trees so luxuriant that during the summer months not a house is visible' was how a residence in Clapham Park was described in 1876.

The bricks for the houses were made in Cubitt's own brickfields on ground between what is now Kings Avenue and Lyham Road. He also sold bricks to other builders.

Cubitt didn't build many of the houses in Clapham Park himself; sites were let out to building sub-contractors, carefully selected by Cubitt to ensure that his high standards were maintained.

Upwards of a hundred properties had been built in Clapham Park by the 1860s. Most of them had names, such as 'Woodlands', 'Fairbourne', 'The Ferns'. After Cubitt's own magnificent mansion, the grandest house was 'Friday Grove' which stood in five acres of ground on what is now the junction of Radbourne Road with Weir Road. It was designed by architect James Thomas Knowles senior for his own occupation. It survived until 1895 when it was demolished as part of the redevelopment of the Weir Road area.

Unlike later garden suburbs, such as Bedford Park, Chiswick, Cubitt did not equip Clapham Park with pubs or other public buildings, perhaps feeling that residents would naturally embrace the rich social life already existing in Clapham. A church to serve the area had already been erected (St James's Park Hill). After Cubitt's death additional churches: All Saints, Lyham Road and St Stephen's, Weir Road were built.

CUBITT'S HOUSE Cubitt's lease in Clapham included a large mansion standing in its own grounds between Bleak Hall Farm and Clapham Common (shown on Rocque's map of 1745) . This he intended as his family home and immediately set about its rebuilding. While the work was underway the Cubitt family lived in Cavendish House, Cavendish Road (the former home of 'the man who weighed the world', Henry Cavendish.

By 1832 Cubitt's new home was ready for occupation, and it was here that most of his twelve children (only seven of whom survived their father) were born.

Cubitt's house was very grand. It stood in 22 acres on the north-west side of Clarence Avenue and had two entrances, each with its own lodge. A drive from the north lodge wound for 100 yards through lawns and paddocks past an ornamental lake. There was a fruit garden, a vinery, stabling and a small farm.

Inside, the house contained 14 bedrooms and a separate wing for servants. Downstairs, a suite of rooms 60ft long could be divided up by sliding doors fitted with plate glass mirrors - a design innovation Cubitt had originally used for the drawing room of Osborne House.

In 1850 Cubitt bought the estate of Denbies near Dorking in Surrey, a part of the country he knew and liked. He set to work improving the grounds and building a new mansion for himself next to the existing Georgian house. Although he maintained his house in Clapham, Denbies was also a residence of the Cubitt family for the last five years of Cubitt's life. His house was bought by Isaac Seligman who named it 'Lincoln House'. It was demolished in 1900.

SURVIVORS

The mansions, with their enormous grounds, were the first of the Clapham Park houses to be demolished and their sites commandeered for large scale housing developments. Next it was the turn of the more modest villas. Some have managed to survive, although often considerably altered and not always, alas, in a good state of repair. Most, but not all, of the Clapham Park survivors were listed by English Heritage in 1981 which should protect them, to some extent at least, from demolition or drastic refurbishment.

These are the surviving Clapham Park houses: nos. 24 and 58 Thornton Road (58, which has a chapel attached, is now St Bede's Infant School); nos. 14 and 126 Atkins Road. The La Retraite Convent also in Atkins Road (the Roman Catholic Girls' School) incorporates four of the original villas. The three houses at the end of Weir Road (nos. 1, 9,11) were built as part of the Clapham Park estate c.1860.

Nos. 84 and 89 Kings Avenue. The earliest of these, no. 84, was built by Thomas Cubitt himself in 1849. Originally called Scinde House, then Dunderave House it was renamed Victoria House by its one-time owner, Vesta Victoria. No. 89 was built c.1856 by C.I. Aldin.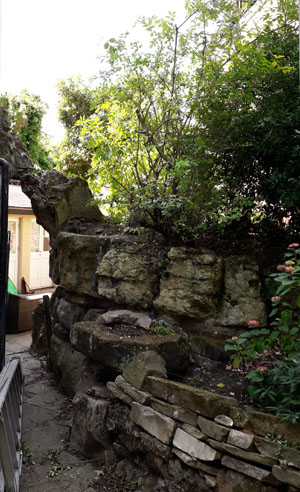 The houses listed above are the more typical of the Clapham Park style of villa, four-square and solid. Less typical survivors, which were also built as part of the estate, are: 138/140 New Park Road. Two houses (originally one) in the cottage orne style, built on a plot of land Cubitt sold to a William Eicke in 1835; Park Terrace in Cavendish Road, built in 1856 by Balham builder, William Nash, and the only terrace houses built on the Clapham Park estate.

An interesting survivor is 44 Clarence Avenue, a tiny house designed by Cubitt for John Clifton, his Clapham manager, in 1830. The square chimney pots with a rosette emblem around their tops are characteristic of Cubitt's design.

The text above is edited excerpts from Clapham Past - Source: Gillian Clegg, Clapham Past, 1998. Historical Publications.








138 NEW PARK ROAD GROTTO (ALSO KNOWN AS THE FERNS AND GOTHIC LODGE?)

Also known as Gothic Lodge, 138 was formerly on the southern perimeter of Clapham Park estate and deer park. Now two properties, it was originally a single residence built in 1835. During the second half of the 19th century, the house appears to have been remodelled. A new extension was added to the side furthest from the grotto and the house overall split into two semi-detached residences.

The 1841 and 1851 census indicate that William Eicke and wife plus two servants were in residence in what would have been a very large house. It was part of the Cubitt Victorian development that created South London homes and estates for wealthy people – providing, as they did, a commanding view over Streatham, and to the heights of Wimbledon and the Surrey Hills beyond. Today it lies at the southern end of New Park Road on the northern corner of the road junction. (see 1890 map) The grotto dates to after the house was built and was likely constructed either about 1855 or by subsequent owners after 1878.

Lambeth local authority lists the building as Grade II and describes it as follows:

1835 built by William Eicke. Pair in modified Gothic style, each two storeys and basement, three windows, irregular. Stucco with incised lines, high-pitched slated roofs with several gables, some with fancy carved and pierced bargeboards. One or two light small paned casements in double chamfered reveals under hoodmolds. No 138 has panelled door with studded rails in Tudor arched doorway under hoodmold in projecting one storey battlemented bay with diagonal buttresses. No 140 has modern door in gabled wood porch, possibly an addition, and some half timbering to its gables. Listing NGR: TQ2987673238.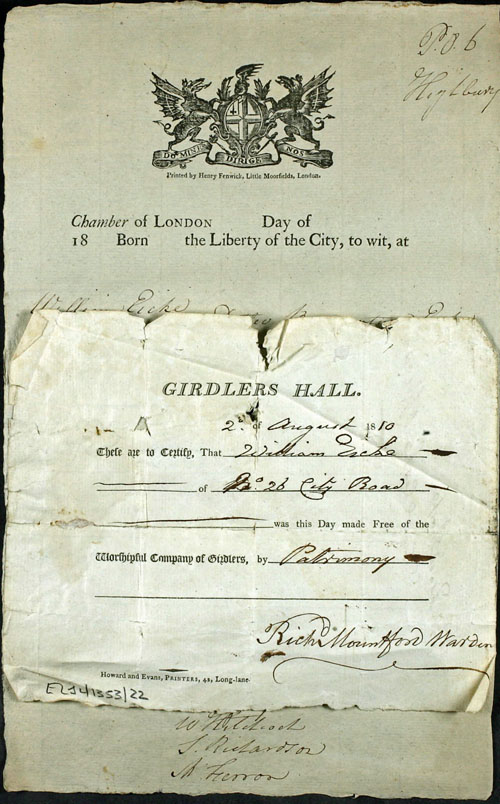 Cubitt had sold Gothic Lodge to the London gentleman called William Eicke in 1835 and it is thought that Eicke likely created the grotto. William Eicke was born in 1787 the son of Detlev Bonaventura Eicke, who was born 1743 in Ahresburg, Schleswig-Holstein, Germany, but who was naturalised in 1784, 3 years before William's birth. Son William married Sarah Palmer from Epsom and he was recorded as resident in Clapham until his death in 1862. In 1810 William had been awarded the Freedom of the City of London and was a member of the Worshipful Company of Girdlers, one of the Livery Companies of the City of London where he was a broker. Sarah died 1878 at the New Park Road house, aged 93, and was childless. The couple are buried in the cemetery in Norwood Road, Lambeth.

Liberty of the City granted to William Eicka The Gothic Lodge grotto was a fernery with roof, presumed glass. It was located at ground floor level on the side and rear of house and built into the house structure. This involved removing and supporting a substantial chimney breast on the ground floor where there had been a fireplace, now French Windows. The grotto had water facilities fed by lead pipes using rain water from the house gutters. The stonework comprises Pulhamite boulders rising to the grotto roof which was about the same level of the first-floor flooring. Pulhamite was a patented man-made rock material invented by James Pulham (1820–1898) of the firm James Pulham and Son of Broxbourne in Hertfordshire.

Pulhamite, which usually looked like gritty sandstone, was used to join natural rocks together or crafted to simulate natural stone features. It was so realistic that it fooled some geologists of the era. The recipe went to the grave with its creator James Pulham. Modern analysis of surviving original Pulhamite has shown it to be a blend of sand, Portland cement and clinker sculpted over a core of hardcore and brick rubble.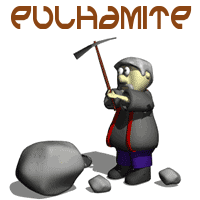 More details of the history of the park and Pulhamite rockwork can be found by clicking the rock smasher left.



Today the grotto is in some degree of ruin. The roof has been long gone and the Pulhamite is showing signs of decay through weathering. A rescue operation is needed with perhaps the provision of a new roof with a large glass area to let in the light.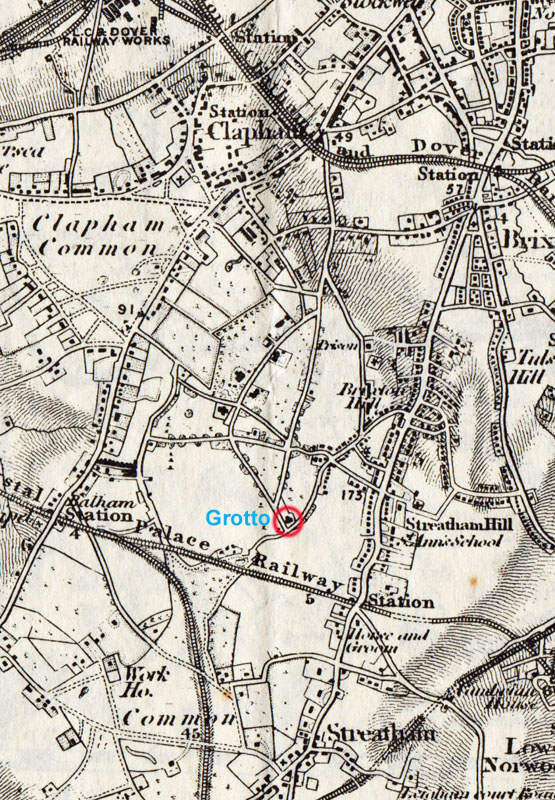 Further investigation is being conducted.

Illustrations:

138 New Park Road.
The Cave.
Osborne House, Isle of Wight.
The sideway showing the rock arch.
Access to the road at the side of the house.
William Eike's Worshipful Company of Girdlers Freeman's certificate.
1890 map of the Clapham Park area.




ADDITIONAL INFORMATION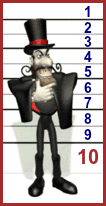 GREAT BRITISH GROTTO GRADING

Click to go to Grotto.Directory home page










CONSTRAINTS

No Children, No Pets, Not open to the public, On private property

FACILITIES

Access on Foot, Grotto with extensive rock gardens

LANDSCAPE

Urban

REGION

England - Southern

THE FEATURES PRESENT

+Dark and mysterious chambers and cave like spaces, +External rock structures, either real or simulated, +Internal stonework that is natural, recycled or simulated to give a subterranean decor, GRADED THREE