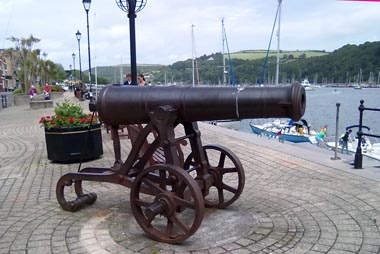 CRIMEAN CANNONS - WHERE ARE THEY NOW?

South Embankment
Dartmouth
Devon
England
TQ6 9BH


Located at the southern end of the paved embankment of the River Dart estuary, the signboard near the gun reads as follows:

'Another piece of period artillery in the town of Darmouth itself may be of interest. It consists of an 18 pounder cast-iron gun sited on the Embankment facing the waterfront. Cast in Brianske (now Belarus) in Russia in 1826, it is assumed that these guns and carriages were brought back as trophies of war from the Crimea after the conflict of 1854-1856 and a number still exist in various cities and towns throughout the British Isles. This example has a calibre of 5.25 inches and would have fired a round shot of cast-iron weighing18 pounds. The monogram on the top of the barrel is the Russian Imperial Double Headed Eagle.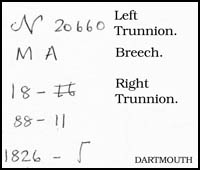 The carriage is of wrought-iron but is in fact only part of the original unit. The diagrams show the wrought-iron slide that supported this type of carriage and which was probably never brought back to this country. This design of period artillery was known as the Systeme Venglov Pattern of 1853 and examples on display in Russia are captioned to this effect. This was a garrison or coastal defence type of mounting for guns between 12 and 36 pounders.

The carriage was light and of simple construction. Both the upper carriage and the slide were made of bars of hammered iron and to prevent the rails from being bent by the shock of the discharge. They were supported in the middle as well as by the traverse wheels at each end; a platform of planks being laid for the middle support to rest on. The prop at the rear end of the tongue was made in two units so that its length could be adapted to the variable level of the terrain. In low batteries the upper carriage was used separately from the slide on a common platform.'.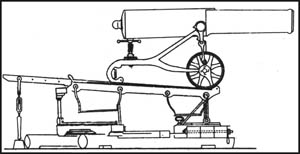 This gun has sequential numbering with the gun in New Zealand.

Further reading - 'The Cannon of Dartmouth Castle'. Carpenter A C.



Email: cannon@thespas.co.uk (click here to send an email)


Website: Click Here

ADDITIONAL INFORMATION













CONSTRAINTS

No Children

REGION

England - Southern

THE FEATURES PRESENT

Crimean Cannon Location, past or present