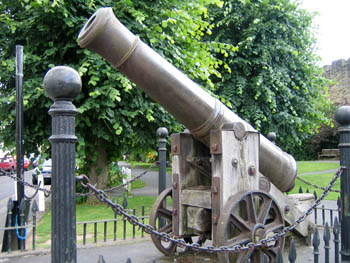 CRIMEAN CANNONS - WHERE ARE THEY NOW?

Ludlow
Shropshire
England
SY8 1AY


Although many Crimea War Cannon have gone for WWII war scrap, Ludlow's survives outside the castle. The following account by John Hunter (1987), supplied by Ludlow Museum, details how the Cannons found their way to local parks and gardens.

How many, I wonder, of the thousands of visitors who enter Ludlow Castle each year pause to notice, on their left, a heavy old Cannon surrounded by a low iron railing? Yet a few minutes' inspection of this seemingly prosaic Crimean relic, captured at Sebastopol in 1855, brings one into touch with a world as fascinating as that, which gave birth to the mediaeval fortress that it now so toothlessly guards.

The key to this world lies in the Cyrillic characters, interspersed with Arabic numerals, which are inscribed on various parts of the gun. These, when translated, reveal not only its technical specifications but also something of its origins. On the round surface at the end of the left-hand trunnion is the casting number '6599', then Alksid, short for Alexandrovski Works and at the bottom Gascoigne the name of the factory director at the time it was made, "Gascoigne Zavord". On the right-hand trunnion, '24' denotes 24 Pdr Calibre; next the word Regat; '1221/2' the weight in poods (equivalent to about 43 cwt) and '1799' is the date of manufacture. The Russian Eagle appears on top of the second reinforce and the number '35' on the boss at the breech end is probably that of the battery.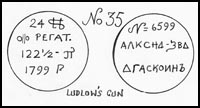 But why use the un-Russian name 'Gascoigne'? From 1769 to 1779, one Charles Gascoigne was the foundry manager of the Carron Iron Company, set up in 1759 near Falkirk by Dr John Roebuck. In 1779, Gascoigne, together with several skilled workers from his foundry, emigrated to Russia. This was at that time when Russia was ruled by Empress Catherine II. She had continued Peter the Great's policy of enlisting the aid of westerners in the process of modernising the country. Gascoigne's prime task was to set up a Cannon factory at Petrogaradsky. He also served as a counselor to the Empress, was created a Knight of the Order of St Vladimir and attained the rank of General before he died in 1806. By this time, Catherine had been dead for ten years and her grandson, Alexander III, was ruling Russia. (note: there are some discrepancies between this account and those elsewhere)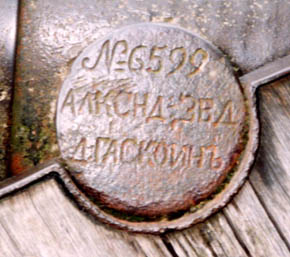 So what is the Cannon doing in Ludlow? The answer is to be found in the minutes of a meeting of the Borough Council on August 6 1857. 'The Mayor reported that he had applied to the Government, as a trophy of the late War, for a Russian Gun and that he had received a letter from Lord Panmure (Secretary for War) acceding to his request. It was Resolved unanimously that the Council approved of the course taken by the Mayor and that they accept the gift on behalf of the Inhabitants and undertake the due care and preservation of it'. Eddowes's Shrewsbury Journal for August 12, provides the further information that 'the Shrewsbury and Hereford Railway Company, through the intervention of Mr. Valentine (the ex-Mayor) and the Station Master, Mr. Alien, had liberally undertaken to convey the gun free of cost from Croydon to Ludlow'. Incidentally, an indignant reaction to these proceedings were expressed in the Shrewsbury Chronicle a few days later under the headline 'Why not a Russian Gun for Shrewsbury?' The writer found himself 'somewhat surprised that, while other towns are obtaining from Lord Panmure without the slightest difficulty guns taken in the late Crimean War, no steps have been taken by those in authority in this town to provide a similar trophy from scenes where Shropshire men so highly distinguished themselves'. He suggested Lord Hill's monument as a possible site. Meanwhile, the Ludlow Council decided on their site at the meeting on November 19. It was to be the 'space in the Castle Walk on the South Side of the entrance to the Castle'.

On November 25, Eddowes's Shrewsbury Journal announced that the gun - 'this great trophy of national valor' - had arrived in Ludlow by the goods train at 1 o'clock on the previous Saturday. 'Its weight is 2 tons without appendages. A vast number of persons have visited the Station, anxious to catch a glimpse of this powerful instrument of destruction and an early day is talked of for its permanent abode.' Not everyone shared Ludlow's pride in its 'Russian Gun'. To conclude on a sour note, the 19th century travel writer, Walter White, in his 'All Round the Wrekin' (1860), opined that the Castle 'gateway . . . gains nothing in picturesque effect by having in front of it one of those stupid trophies from Sebastopol - a Russian gun. It seems to me a mistake to have distributed those ugly things over the land; eyesores in the quiet streets of country towns. The Greeks, as I have read, used to set up wooden trophies, so that the memory of quarrels should not be too long perpetuated'.

(The writer is indebted to the following for information and other forms of assistance: James Archdale Esq., C. J. N. Trollope Esq., the Shropshire County Council Information Service)



Email: cannon@thespas.co.uk (click here to send an email)


Website: Click Here

ADDITIONAL INFORMATION












REGION

England - Central

THE FEATURES PRESENT

Crimean Cannon Location, past or present