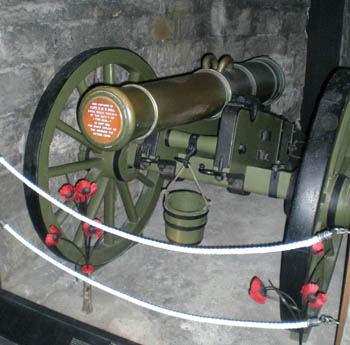 CRIMEAN CANNONS - WHERE ARE THEY NOW?

Caernarfon Castle
Castle Ditch
Caernarfon
Gwynedd
Wales
LL55 2AY
Telephone: +44(0)1286 673362

Caernarfon Castle, often anglicised as Carnarvon Castle, is a medieval fortress in Caernarfon, north-west Wales cared for by Cadw, the Welsh Government's historic environment service. In 1911, Caernarfon Castle was used for the investiture of the Prince of Wales, and again in 1969. The castle was built by King Edward 1 as a royal palace and fort. Building commenced in 1283. It has seen a number of assaults over the centuries but now provides a wonderful visitor experience. In 1986 the castle was pronounced a UNESCO World Heritage site.























Today one of the visitor attractions is the Royal Welch Fusiliers Military Museum. The museum is housed in two towers. In it you will find a wealth of original exhibits, supported by film, sound and models, which tell the story of over 300 years of service by Wales' oldest infantry regiment, in peacetime and in war, all around the world. Royal Welch history begins with the campaigns of William III, and includes Marlborough's wars, the American War of Independence, the wars with Revolutionary and Napoleonic France, the Crimean War, the Boer War and China.



Visitors to the castle and museum are confronted with a pair of South American cannon in the castle yard. However for Crimea enthusiasts the museum also has a trophy, a brass cannon captured during the early part of the hostilities with Russian.


The cannon was captured by Captain B W D Bell of the Royal Welch Fusiliers at the Battle of the Alma on 20 September 1854. As a result the captain was awarded the Victoria Cross and the gun safely returned to the British Isles in due course where it has been kept in near pristine condition.


Pictures above:

1. The Crimea Cannon captured at Alma.

2,3. The castle from the exterior and the inner courtyard showing the South American cannon.

4. Captain Bell and the cannon.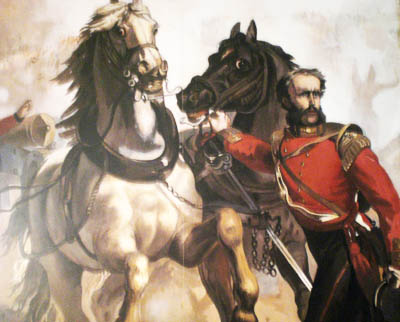 Email: contact@rwfmuseum.wales (click here to send an email)


Website: Click Here

ADDITIONAL INFORMATION













CONSTRAINTS

Open set times only

FACILITIES

Access all Year, Access by Road, Entry Fee, Part of a larger tourism attraction, Retail Souvenir Shop, Toilets, Tourism Information

LANDSCAPE

Coastal

REGION

Wales

THE FEATURES PRESENT

Crimean Cannon Location, past or present