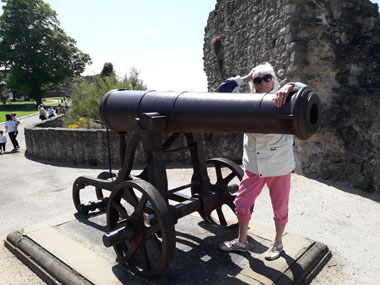 CRIMEAN CANNONS - WHERE ARE THEY NOW?

Rochester Castle grounds
Castle Hill
Rochester
Kent
England
ME1 1SW


This cannon has survived numerous threats to its longevity and can now be seen in the grounds of Rochester Castle. Rochester Castle stands on the east bank of the River Medway. The 12th-century keep or stone tower is the castle's most prominent feature. It is open to the public and managed by English Heritage.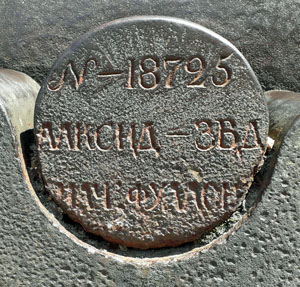 Stephen Nye, Assistant Curator, Guildhall Museum, Rochester gives the following detail. "The cannon in the Rochester castle grounds was originally sited under the Guildhall colonnade in 1859. Apparently the Secretary of War had presented a similar gun to the town of Maidstone in 1858. The Mayor of Rochester (then Mr J Thomas) thinking perhaps that the City was missing out contacted the Secretary asking why they hadn't got one too! The Secretary was happy to comply and in due course the field piece was then delivered. It was mounted on a new gun carriage for which the Council paid Woolwich Arsenal sixteen pounds.

The cannon was placed under the Guildhall colonnade but proved to be a bit of an obstruction - the market was still being held there every week. After a couple of years it was given on loan to the Gillingham Battery of the Kent Artillery Volunteers. There it stayed until 1897. When the Council was considering ways of celebrating Queen Victoria's Diamond Jubilee the Crimean gun was remembered and it was retrieved from the Artillery Volunteers and installed in the Castle Gardens where it is today."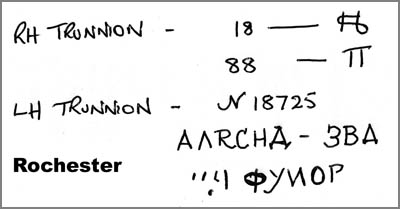 From the inscriptions on the trunnions we can deduce that it is an 18 fun or pounds cannon weighing 88 pood or 3080 pounds. The number is 18725 and it was made at the Alexander Factory where Fullon was the Director, probably circa 1820 although the date is rusted and unclear. The Russian Eagle is on the second reinforce and it is on a Venglov carriage.

Pictures: the cannon in situ and trunnion markings.

(For further information on the canon please see Brain scrapbook AA p.36, local studies collection)





Website: Click Here

ADDITIONAL INFORMATION













FACILITIES

Access all Year, Access by Road, Access on Foot, Entry Fee, Toilets, Tourism Information

REGION

England - Southern

THE FEATURES PRESENT

Crimean Cannon Location, past or present