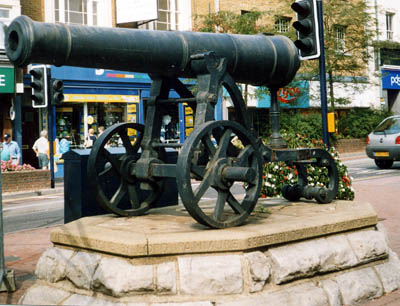 CRIMEAN CANNONS - WHERE ARE THEY NOW?

Bank and Mill Streets
Maidstone
Kent
Great Britain
ME14 1SD


The Maidstone gun is in situ at the junction of Mill Street and Bank Street in the town centre.

From the trunnion markings we can deduce that it is of 18 fun or pounds calibre and weighs 107 I/2 poods or 3762 1/2 pounds. The date of manufacture is 1833 at the Alexandre Factory and although unclear it is likely that Fullon was still the Director, albeit in his final year. The number is 24386. One the breech end boss are the letters MA signifying Marine Artillery.

The Venglov carriage is broken in several places and has been repaired. An interesting point of detail is that at least two of the nuts used on the carriage bear the British arrow symbol,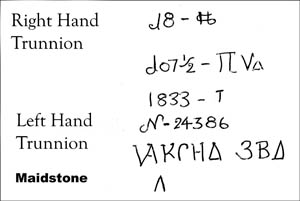 endorsing the fact that the carriage originated from Woolwich Arsenal rather than Sebastopol.

Assuming that numbering was consistent it is possible to calculate the average annual production of the Alexander Factory. The number of the 1825 New Zealand cannon is 20661. This suggests that 3725 cannon were produced between 1825 and 1833, giving an annual average of 465 cannon, about 9 each week.

The Maidstone gun is on its original plinth that bears the inscription "THIS CANNON CAPTURED AT SEBASTOPOL WAS PRESENTED TO MAIDSTONE BY LORD PANMURE SECRETARY OF WAR GEORGE WICKHAM MAYOR 1858".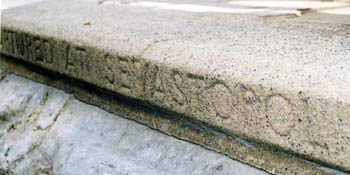 Pictures: Trophy gun, September 2005; trunnion markings and plinth detail.





ADDITIONAL INFORMATION


















FACILITIES

Access all Year, Access by Road, Access on Foot, Free Entry

REGION

England - Southern

THE FEATURES PRESENT

Crimean Cannon Location, past or present