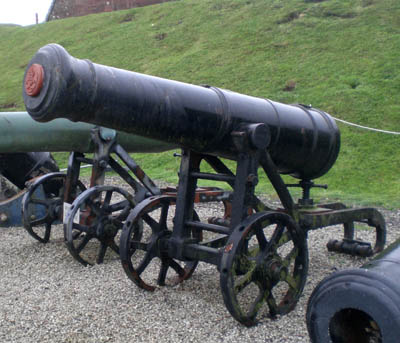 CRIMEAN CANNONS - WHERE ARE THEY NOW?

Royal Armouries, Fort Nelson
Portsdown Hill Road
Fareham
Portsmouth
Hampshire
England
PO17 6AN
Telephone: 01392 233734

Portsmouth town

In 'Portsmouth in Defence of the Realm', Sadden J (2001) p.65, there is a picture of a Crimean Trophy Gun on a Venglov Carriage outside the Old Gun Wharf Armoury.

The Armoury is now incorporated into the modern Gun Wharf development and there is no sign of the cannon. It is understood that this cannon has been scrapped.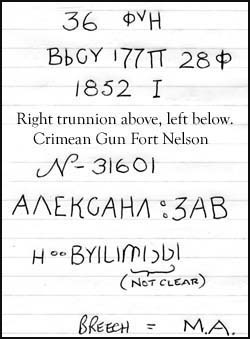 Fort Nelson - Royal Armouries


Located on the South Downs chalk hills overlooking Portsmouth, the Royal Armouries at Fort Nelson is a scheduled ancient monument. The site is a restored Victorian fortress housing a big gun collection and extensive displays tracing artillery development. The museum contains a large collection of cannon including five trophy guns from the Crimean War.



There are two bronze Russian Licorne Cannon on Venglov Carriages, these were introduced by Shuvalov 1757/95 respectively with a tapered breech and hollow shells. They sustained damage in the Crimean War. (see twin pictures at the foot of the text below, taken early in the 21st century)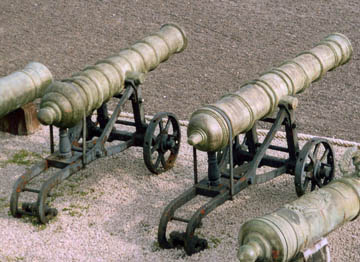 There are also two bronze Chinese Cannon on Venglov Carriages from the Crimea. (see picture left)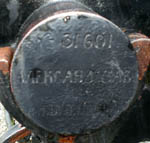 Last but not least, there is also a 36 pounder Russian cast iron cannon from the Alexander Factory, dated 1852 number 31601. The breech is inscribed MA for Marine Artillery and it is mounted on a Venglov Carriage. (see top picture, trunnion details, and trunnion pictures) Of the other similar cannons that Portsmouth once had, these are alleged to have gone for WWII scrap.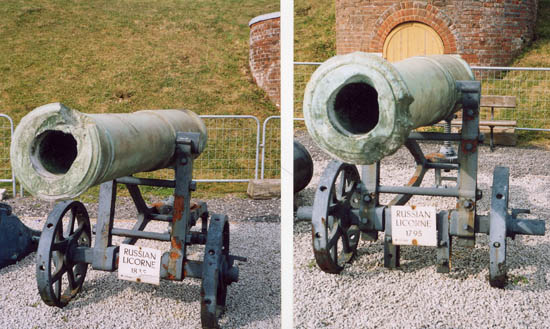 Email: cannon@thespas.co.uk (click here to send an email)


Website: Click Here

ADDITIONAL INFORMATION













FACILITIES

Access all Year, Access by Road, Access on Foot, Conducted Tours of Locality, Disabled Access, Free Entry, Restaurant/Food, Retail Souvenir Shop, Toilets, Tourism Information

REGION

England - Southern

THE FEATURES PRESENT

Crimean Cannon Location, past or present