CRIMEAN CANNONS - WHERE ARE THEY NOW?

The Old Steine
Brighton
Sussex
Great Britain




Brighton forgets that it once had two Crimean cannon in the park known as The Old Steine. Originally a fishing village, the town developed with the first tourists as a result of the efforts of Dr Richard Russel MD. He published his dissertation in the 18th century and this initiated the 'sea water cure' at the resort. Following this George, Prince of Wales, who became the Prince Regent in 1811, built the Brighton Pavilion that originated as an old farmhouse. A key issue was it being the nearest coastal point to the London metropolis. The railway arrived in mid-Victorian times and the day tripper became a reality. The Steine was a popular green park in which to promenade and which housed many decorative structures as well as events and markets.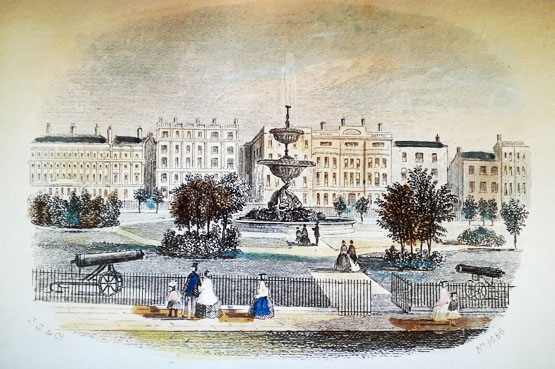 In the print above two Crimean Cannon are decorating the park entrance. Today there is no sign of them and so perhaps they went for scrap metal during World War II. The Victoria Fountain illustrated does survive at the southern end of The Steine. Our research continues....
ADDITIONAL INFORMATION







CLICK THE FISH BELOW TO EXTEND YOUR EXPLORATION OF BRIGHTON





Brighton's Past on Shifting Sands Part ONE.




Brighton's Past on Shifting Sands Part TWO.




Brighton's Past on Shifting Sands Part THREE.




Brighton's Crimean Cannon.




The London, Brighton and South Coast Railway.




The Last Fisherman - Rory's Grotto.




Tourism and the Sussex Downs - South Downs National Park.




Crystal Palace - a key tourist location between London and Brighton.







FACILITIES

Access all Year, Access by Road, Access on Foot, Free Entry, Part of a larger tourism attraction

LANDSCAPE

Coastal, Rural

REGION

England - Southern, Wales

THE FEATURES PRESENT

Crimean Cannon Location, past or present