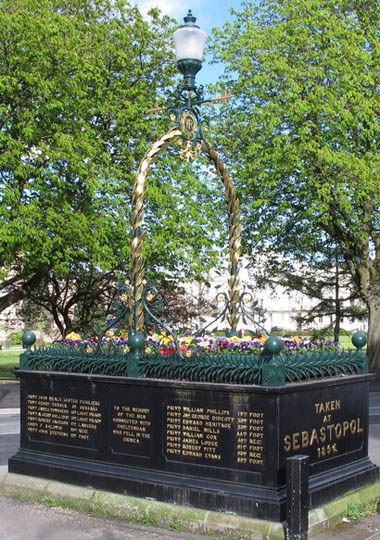 CRIMEAN CANNONS - WHERE ARE THEY NOW?

The Promenade
Cheltenham
Gloucestershire
Great Britain
GL50 1NN




At the top of the promenade in front of the Queen's Hotel were two large black rectangular cast iron plinths each of which used to support a cannon.

In 1857, Mr Davis, the proprietor of the Queen's Hotel, read in a news article that town of Colchester had asked for two Russian cannon, which were part of a group then at Woolwich Arsenal. When Cheltenham MP Capt Berkeley successfully applied for two of the canon, Mr Davis agreed to pay for them to be brought to Cheltenham as he thought that they would make a fine war memorial outside his hotel. Immediately to one side of the memorial guns were the Winter Gardens, now gone.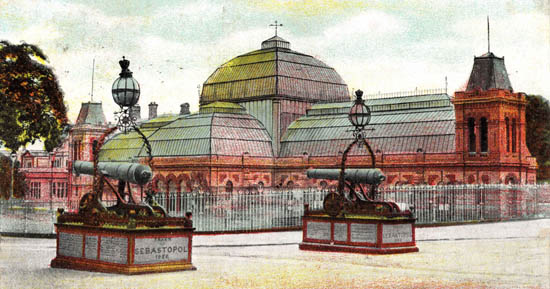 The memorials were first unveiled in July 1858 and the overhead lanterns added in 1860. During World War II, the cannon were removed and supposedly melted down for munitions. One of the bases remained and was turned into a flower bed, still with the lantern on top. Around the top of the plinths is a low barrier of metal spikes with short metal posts with spherical finals at the corners. The area within this barrier is now used as a planter for flowers. The memorial is spanned by a decorative arch painted in gilt and green, surmounted by a lamp. Underneath the lamp, supported by the arch, is a badge containing the monogram VR. There is gilded lettering around the faces of the plinth. The memorial is listed Grade II by English Heritage.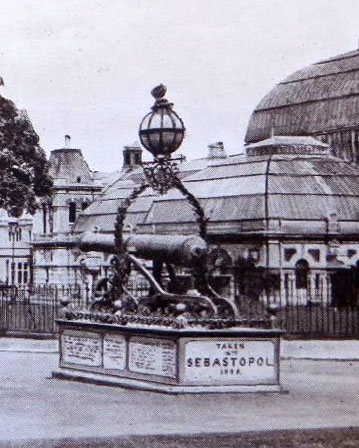 The inscrpitions read:

Side 1: TAKEN AT SEBASTOPOL 1856
Side 2, centre section: TO THE MEMORY OF THE MEN CONNECTED WITH CHELTENHAM WHO FELL IN THE CRIMEA
Side 2, left and right hand sides: (NAMES)
Side 3: THIS MEMORIAL RECORDS THE NAMES OF THOSE FROM THIS BOROUGH WHO GAVE THEIR LIVES IN THE CRIMEAN WAR. IT WAS ORIGINALLY SURMOUNTED BY A GUN TAKEN AT SEBASTOPOL. DURING THE WAR OF 1939-1945 THE GUN WAS HANDED TO THE GOVERNMENT TO PROVIDE METAL FOR ARMAMENTS
Side 4: (NAMES)
ADDITIONAL INFORMATION











FACILITIES

Access all Year, Access by Road, Access on Foot, Free Entry, Hotel or B and B Facilities, Part of a larger tourism attraction, Restaurant/Food

LANDSCAPE

City Centre

REGION

England - Central

THE FEATURES PRESENT

Crimean Cannon Location, past or present