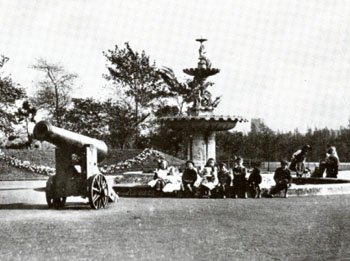 CRIMEAN CANNONS - WHERE ARE THEY NOW?

Ropner Park
30 Richmond Rd,
Stockton-on-Tees
County Durham
Great Britain
TS18 4DT




Early postcards of Ropner Park show an old cannon standing near the fountain. This cannon had been in the park since it was opened in October 1893, but its origins go back much earlier than that. The Park's cannon was one of many iron cannon which had been brought back to Britain from Sebastopol

The gun and carriage duly arrived in February 1858. In November of that year the cannon was finally unveiled by the Mayor of Stockton (Cllr. Joseph Dodds) having been placed on a 6ft high mound on the Green. This was behind Stockton Parish Church and where the subsequent Council Offices were sited. In later years, when the Green was chosen as the site for the town's cattle market, the cannon was relocated to the new Ropner Park. Early descriptions of the park describe the gun being located near the bandstand, however within a few years it was moved to stand by the fountain.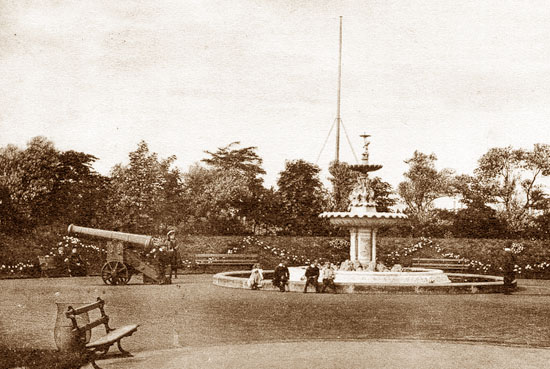 In June 1890 Major Robert Ropner offered a piece of land, known locally as Hartburn Fields to the people of Stockton which could be used as a public park, providing the local council would lay it out 'tastefully' and 'keep it forever'. The park extends for about 40 acres. The Duke and Duchess of York, later King George V and Queen Mary opened the Park on 4 October 1893.

The cannon originally came with a choice of gun carriages from Woolwich Arsenal. Stockton Council decided to purchase the less expensive model at a cost of sixteen pounds for a wooden one. The cannon went for scrap for WWII. Mike Corner, a local historian, recalls climbing on the cannon in the 1930s. An iron plaque on the cannon confirmed its origins.

For more information see Friends of Ropner Park Newsletter, spring 2015.
ADDITIONAL INFORMATION











LANDSCAPE

Park or Garden

REGION

England - Northern

THE FEATURES PRESENT

Crimean Cannon Location, past or present