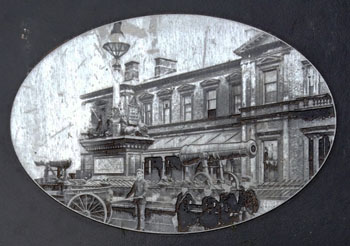 CRIMEAN CANNONS - WHERE ARE THEY NOW?

formerly at Arpley Station
plaque at Queens Gardens
Palmyra Square
Warrington
Great Britain




The Warrington Crimean Cannon from a plaque in Queens Gardens.

Known as the two Arpley Cannons, these Crimean Cannon were positioned in front of Arpley Station. They were brought to Warrington as trophies from the Crimean War of 1854 - 56. The Cannons were unfortunately scrapped for their metal in the Second World War effort in June 1940 along with the Walker Fountain in Bank Park.

In the year 2000, John Mockler reported in the Guardian that he had discovered two plaques buried under leaves and debris in Victoria Park. The memorials came to light when he was tracing his family tree and came across a reference to the Cannons that were presented to the people of Warrington in a ceremony April 1858.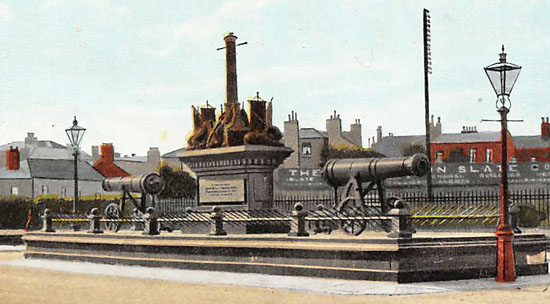 The Warrington Crimean Cannon - by the time this picture was taken the globe had disappeared from the lamp post in the centre.

They were placed outside the then newly built Arpley Station with the two plaques which read: 'These Russian Guns, captured on the eighth day of September 1855 by the victorious arms of Her Majesty and her allies in the Fortress of Sebastopol, were presented to the Mayor and the Corporation of the Borough of Warrington by Her Majesty's Government as a memorial to the sufferings and the triumphs of the British Army in the Crimea.' & 'Mounted at the expense of Gilbert Greenall Esquire Member of Parliament for the Borough of Warrington 1857'.

Following removal of the Cannons, the Station met a similar fate in 1958 and was demolished 10 years later. The two granite plaques were moved to Victoria Park, and more recently (2004) to Queen's Park where the public can see them. To view them see website below. The National Inventory of War Memorials at the Imperial War Museum records these lost guns and the surviving tablets now in Victoria Park SJ 618 880.





Website: Click Here

ADDITIONAL INFORMATION













LANDSCAPE

City Centre

REGION

England - Northern

THE FEATURES PRESENT

Crimean Cannon Location, past or present