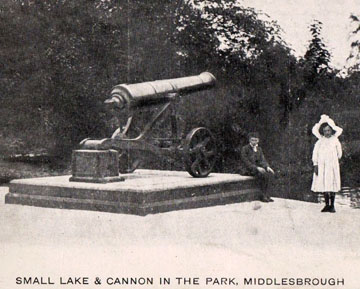 CRIMEAN CANNONS - WHERE ARE THEY NOW?

Albert Park
Park Road North
Middlesborough
North Yorkshire
Great Britain
TS1 3LB
Telephone: 01642 819808

Middlesbrough is a large post-industrial town of mixed reputation on the south bank of the River Tees in north-east England, founded in 1830.

Pictures above right: (i)(ii)(iv) the Russian cannon in Albert Park in 1903/1913. (iii) The Crimean Cannon in 2018.

The Middlesborough Crimean Cannon has a long and complex history and has been in several locations since arriving in 1858 It started off in the churchyard then it overlooked Cannon Lake in Albert Park until 1947 before being offloaded into Stewarts Park. As a result of an Evening Gazette campaign in 1965 it was deposited with the Territorial Army until 1978, then to the Dorman Museum for 23 years. Finally it went over the road back into the Albert Park Memorial Garden in 2001 where it remains. The good news is that it survived and is in good order.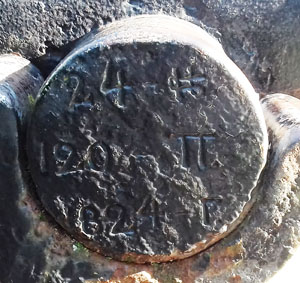 The inscription on the trunnion says 1824 (see picture right), which is the year the cannon would have been cast. The Robins database confirms a 24 pdr: 19180 - 1824. This makes it older than Middlesborough itself!


David Kelsey of the Crimean War Research Society has written a detailed history of the gun which is on-line. Click website below to read it. There are a number of excellent pictures and drawings included.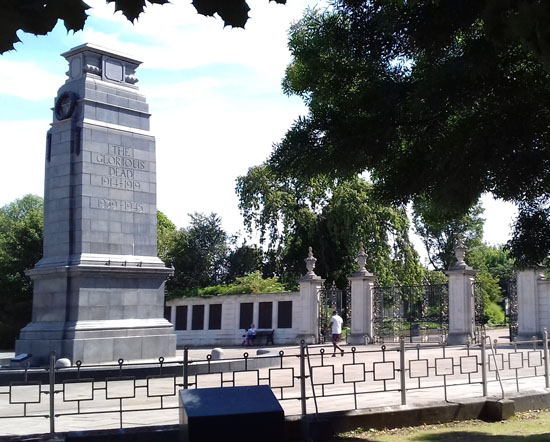 The memorial gardens where the cannon resides are just inside the Albert Park Gate (above). This is on the northern perimeter of the park. The gun is to your left as you enter the impressive park gates. The Dorman Museum is situated within a stone's throw of the same gates. There is some free parking outside the museum in Lindthorpe Road T55 6LA.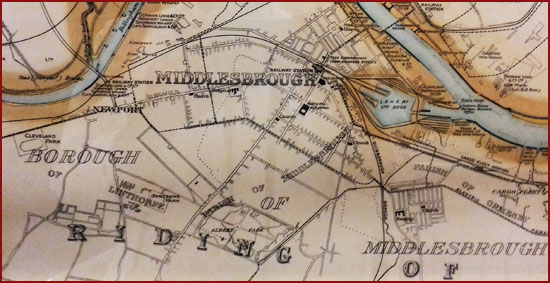 Early map of Middleborough showing Albert Park bottom centre.



Website: Click Here

ADDITIONAL INFORMATION













CONSTRAINTS

Open set times only

FACILITIES

Access on Foot, Free Entry

LANDSCAPE

Park or Garden, Urban

REGION

England - Northern

THE FEATURES PRESENT

Crimean Cannon Location, past or present