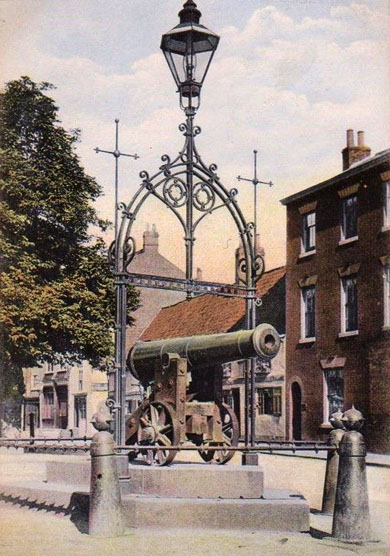 CRIMEAN CANNONS - WHERE ARE THEY NOW?

including a replica at nearby Beckingham
Cannon Square
Retford
Nottinghamshire
DN22 6PB


Retford is a market town in Nottinghamshire in the East Midlands of England. Near St Swithun's Church can be found the Crimean Cannon. The two pictures right were taken approximately 100 years apart. The Retford Cannon has survived much including the collection of scrap metal during WWII. During the Second World War the cannon, along with the railings from around St Swithun's Church, were collected and sent to Bradshaw's foundry in the town for melting down. The cannon was saved from this fate by Councillor Alfred Wilson and later reinstated in Cannon Square after the War. Here it has remained as an important landmark.

However in 2006 the Sebastopol Cannon was taken away again, this time to be restored through funds raised by the Retford Civic Society. Fortunately on 16th September it was re-installed and a day of celebration was held to re-enact the original arrival of the cannon in 1858. The Retford Civic Society had a replica cannon built especially for the occasion and it was paraded through Retford as part of the celebration. The memorial cannon is now a Grade II listed feature.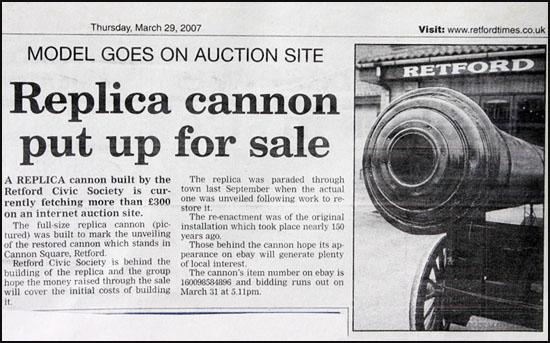 So what became of the replica cannon built in 2006? This unusual feature was relocated to a family's front garden locally in Beckingham. David and Jenny Hudson, of Old Trent Road, proudly display their cannon in their garden which has now become something of a talking point in the village.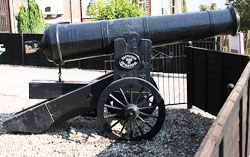 David Hudson has always had a passion for the old style guns and when his wife learnt that it was advertising the sale on Ebay she decided to bid for it.

Picture right - the Beckingham replica in situ.







ADDITIONAL INFORMATION













FACILITIES

Access all Year, Access by Road, Access on Foot, Disabled Access, Restaurant/Food

LANDSCAPE

Country town/village

REGION

England - Central

THE FEATURES PRESENT

Crimean Cannon Location, past or present