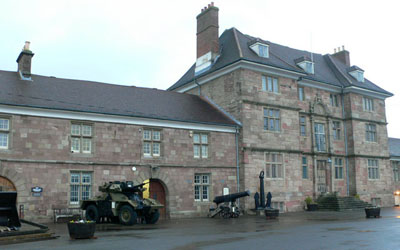 CRIMEAN CANNONS - WHERE ARE THEY NOW?

Monmouth Castle and Military Museum
Castle Hill
Monmouth
Monmouthshire
Wales
NP25 3BS
Telephone: 01600 772175



Monmouth Castle (Welsh: Castell Trefynwy) and Military Museum is located on a hill above the River Monnow, behind shops and the main square in the town of Monmouth, county town of Monmouthshire. The Castle itself dates from 1067 and was built by William FitzOsbern, First Earl of Hereford. It is a Grade I listed building and scheduled monument. The Monmouth Regimental Museum is similarly located on Castle Hill in Monmouth, Wales. The museum tells the story of the Royal Monmouthshire Royal Engineers and is in a wing of Great Castle House, a listed building on the Monmouth Heritage Trail. Monmouth's Crimean Cannon stands at the visitor entrance. The Robins database records the following: 7549 - 1800.

A notice on the gun in 2020 confirms that this gun was given to Monmouth after the Crimean War in gratitude for the service of its men. It fired a ball of 32 pounds for 2500 yards, at an elevation of 8 degrees, using a powder charge of 10 pounds. The carriage is remade and not the original.

Unfortunately for local enthusiasts, in May 2014, Crimean War memorabilia belonging to Field Marshal Lord Raglan was auctioned off after being kept for generations at the family home Cefntilla Court in Monmouthshire. They were acquired by Lord Raglan during his 40 years' service in which he was commander of the Crimean War campaign in the mid 19th Century.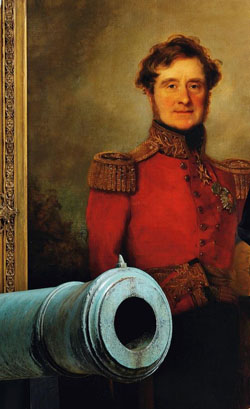 Lord Raglan was the Duke of Wellington's right hand man and later oversaw the infamous Charge of the Light Brigade in 1854. Around 300 artefacts, including cannon and medals, sold for more than two million pounds.

The most imposing artefacts are two cannon captured at the battle of Sevastopol in 1855. They were given a guide price of forty thousand pounds each but made a total of one hundred and thirty nine thousand pounds at auction in London. The collection had been kept in the ancestral home of the Raglan family since 1858.


ADDITIONAL INFORMATION











CONSTRAINTS

Open set times only

FACILITIES

Access all Year, Access by Road, Access on Foot, Entry Fee, Restaurant/Food, Retail Souvenir Shop, Toilets, Tourism Information

LANDSCAPE

Country town/village

REGION

Wales

THE FEATURES PRESENT

Crimean Cannon Location, past or present