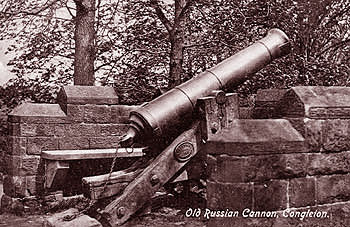 CRIMEAN CANNONS - WHERE ARE THEY NOW?

Congleton Park
Park Road/View
Congleton
Cheshire
Great Britain
CW12 1JG


The Story of Congleton Park

The Friends of Congleton Park are a constituted group, formed in 2005, which aims to promote the use and awareness of the Park for the enjoyment of the public, in partnership with Cheshire East Council, under the Guidance and support of the Park Manager.

Creation of the Victorian Congleton Park.

Following a movement to create public parks in the nineteenth century, in 1856 the Town Council bought twelve acres of land between Town Wood and the River Dane with the object of creating an open space in which to lay out a public park.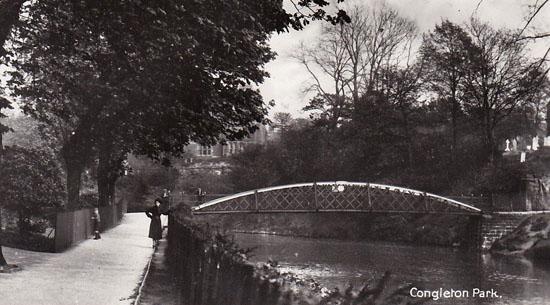 Above: The Bridge into Congleton Park

The Russian Cannon

The Town Clerk seemingly had applied for a Crimean Cannon in January 1859 and the application was accepted. The cannon arrived at Congleton Station on 14 June 1859 and was escorted into the town in an 'immense procession' led by five men who had fought in the Crimea war. At first the cannon was placed on a specially built platform situated somewhere near the bottom of Moody Street. By 1871 it seems to have become rather a nuisance and the opening of Congleton Park seemed to be a suitable opportunity to move it to a mock fort emplacement at the top of the park wood.

During the Second World War the demand for metal led to a debate by the Town Council for the cannon to be donated to help the war effort. We assume the proposal was accepted.





ADDITIONAL INFORMATION













FACILITIES

Restaurant/Food

LANDSCAPE

City Centre

REGION

England - Northern

THE FEATURES PRESENT

Crimean Cannon Location, past or present