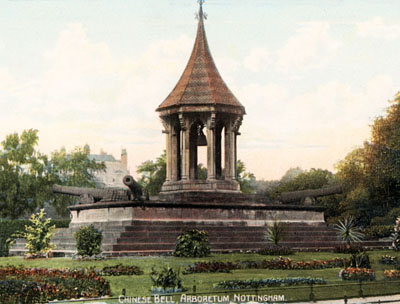 CRIMEAN CANNONS - WHERE ARE THEY NOW?

The Arboretum
Waverly Street
Nottingham
Nottinghamshire
Great Britain
NG7 4HF


The Arboretum was opened to the public May 11, 1852. It comprised seventeen acres and was designed for a botanical collection, providing a peaceful place to relax. It became a major attraction of Victorian Nottingham. It is currently home to over 800 trees covering 65 species. Located around the structure known as The Chinese Temple with historic bell, are four cannons. Two of these were taken at Sevastopol 1854-1855, the other two were cast in Nottingham.

During the war with China (1857) the bell was taken from a large Temple near to the east gate at Canton, when that city was captured. It was removed by the army, and brought to Nottingham and presented to the town in 1862 by the officers and soldiers of the 59th and 2nd Nottinghamshire Regiments. Here the bell was mounted in a purpose made Chinese Pagoda alongside four guns. The result being that cannon are mounted as firing from a Chinese Temple into the four quarters of the earth; while the bell has never been used.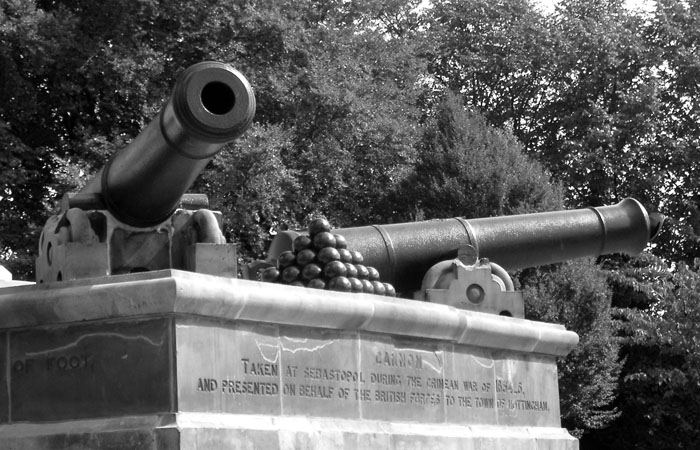 The 21st century visitor to Nottingham will still find the two Crimean Cannon residing in the Arboretum. No longer guarding the original Chinese Temple, they are mounted on their own plinth where they threaten passers by with their power as former weapons of destruction.





Website: Click Here

ADDITIONAL INFORMATION













CONSTRAINTS

Open set times only

FACILITIES

Access all Year, Access on Foot, Disabled Access, Free Entry, Restaurant/Food, Toilets, Tourism Information

LANDSCAPE

City Centre, Park or Garden

REGION

England - Northern

THE FEATURES PRESENT

Crimean Cannon Location, past or present