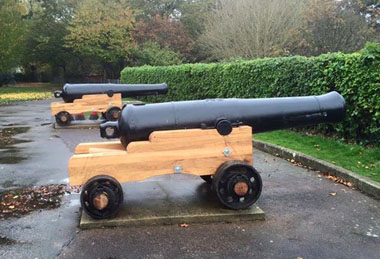 CRIMEAN CANNONS - WHERE ARE THEY NOW?

Belle Vue Park
Yarmouth Road
Lowestoft
Suffolk
Great Britain
NR32 4AL


The 20th century story of cannons in Lowestoft is confusing and incomplete. Belle Vue Park is to be found in North Lowestoft. At the top of the gardens is a war memorial surrounded by three cannons. The is the Lowestoft Naval Memorial. The picture right shows two of the cannon in Belle Vue Park just after their restoration in 2015. The park is the former site of a battery of cannon, later becoming a communal drying ground. It opened as a public park in 1874 when it was laid out as an arboretum, replacing the three batteries that once protected the town.

In 1970, four cannons were found at the Waveney District Council depot in Rotterdam Road. These were restored and mounted on gun carriages based on an authentic style copied from ones on display at Southsea Castle in Portsmouth. Originally cannons were located along the cliffs at North Parade and the Denes however during the First World War, it is believed they attracted attention from German bombers and so were removed from sight. As it was thought these cannons had once been part of the battery located at Belle Vue Park, three of these were remounted at the site in 1972.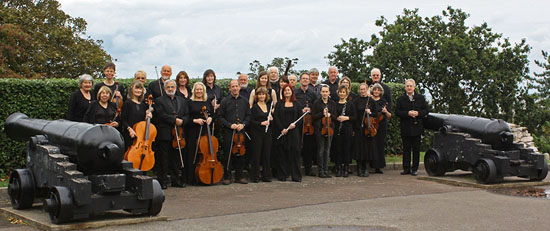 Picture: Waveney Sinfonia in Belle Vue Park; the cannon are mounted on carriages that appear to predate the 2015 restoration.

However in 1980 one or more cannon from the Crimean War were rescued from St Margarets Churchyard, Lowestoft to be restored and exhibited at the Maritime Museum in Sparrows Nest Park. The cannon was originally on top of the tomb of St John Hargreaves, a hero of the Crimean who died in 1867, but the tomb was vandalised.

We now jump to 2015. The Lowestoft Journal in November records that Waveney Norse and the International Boatbuilding Training College, based in Oulton Broad, restored the three historic cannons in Belle Vue Park, Lowestoft. The cannons had fallen into disrepair and were removed in September to be restored. The work was completed in time for the Remembrance Sunday and Armistice Day commemorations.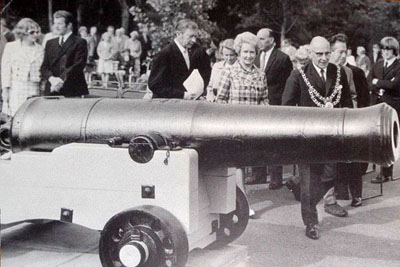 Picture: The refurbished cannon unveiled 2015.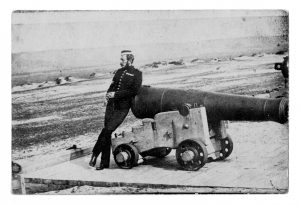 LINKS: Click this 1890 picture left of a Lowestoft Cannon for more details posted by Suffolk Record Office. Also click on website below for the local Maritime Museum web site. Our investigations continue....








Website: Click Here

ADDITIONAL INFORMATION













FACILITIES

Access all Year, Access on Foot, Disabled Access, Free Entry, Toilets

LANDSCAPE

Coastal, Park or Garden

REGION

England - Central

THE FEATURES PRESENT

Crimean Cannon Location, past or present