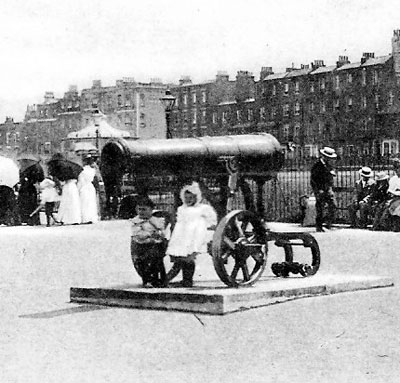 CRIMEAN CANNONS - WHERE ARE THEY NOW?

Fort Parade
Margate
Kent
Great Britain


It appears that Margate still has its Crimean Cannon which remains hidden to avoid collection for scrap metal during World War 2. The only problem is, having searched unsuccessfully, nobody knows where it is! The story unfolds as follows based on information researched from a variety of sources including web sites as acknowledged below.:

Picture above - The Margate Crimean Cannon on its original site on Fort Green. This is just to the East of the Fort Hill and is adjacent to Fort Crescent. This subsequently became the site for the Winter Gardens in 1910/11. Research by historian Derek Hibbert indicates that the cannon may also have been located on the pier at some point. Our thanks to David for supplying a picture of same.

A quote from Historic Margate by G.E. Clarke first published in 1957 states:
'...he (Capt Hodges) erected on the site the first great flagstaff, put seats around it, and poised on the edge of the cliff the old cast iron guns which were there until the last war, when they were buried, apparently for safety, in the ground where they once stood. After the war the ground was re-turfed, without the guns being exhumed'.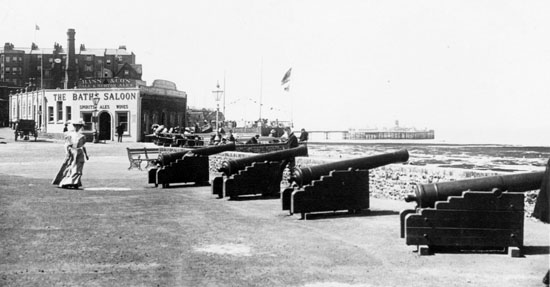 Picture above: The Margate cannons in 1908 on the site now occupied by The Lido, just east of the Winter Gardens. It appears they were moved here during the construction of the Winter Gardens at their earlier site on Fort Green.



In 1861, Captain Frederic Hodges erected a 128 ft high flagstaff on the cliff top towards Palm Bay, east of Margate. On it flew two flags, a Union Jack and a White Ensign. At the base of the flagstaff Captain Hodges placed a number of ornamental seats and seven iron cannons. In 1870 the flagstaff and guns were put on the market for sale by public auction. They were bought by a Mr George Pitt, who's father had spent many a happy hour at Margate. The flagstaff became known as 'Hodges Folly' and was a popular tourist spot and playground for children. By 1899 the flagstaff had become decayed and was replaced with a smaller one. The guns remained in the locality up until the second world war, then they all disappeared, including a large Russian cannon which had been captured from Sebastopol and presented to Margate in 1858.

Picture right - Palm Bay flagpole c. 2008. By 2018 it had disappeared together with all but two of the recovered cannon.

During the subsequent search for Capt Hodges cannon at Margate, the Fort Green which is by the Winter Gardens at Margate, was surveyed and an interesting reading was followed up. The base for one of the WW2 guns was found. The Winter Garden sweep was a search for a cannon from the Crimea War that was said to be buried in the area close to where it used to stand.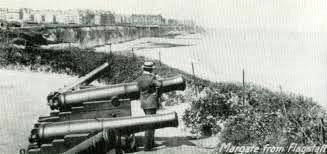 Picture left: The Margate cannons on the cliff top overlooking The Lido, just east of the Winter Gardens. They were believed to have been moved here during reconstruction of The Lido site, their previous location, in the first half of the 20th century.

In 1973, a local man stumbled across some papers and photo's of the guns. On the reverse of one of the photo's was written "These guns were buried by the old flagstaff in 1940 to prevent them from being taken away for scrap". He and some friends scanned the flagstaff area with a metal detector, and sure enough, there was a positive metal reading. The 'Isle of Thanet Gazette' became interested and wrote an article about it. Among the information recieved by them from the public was a letter from a Mr Eric Ward, who said he was one of the men who had helped bury the guns. Margate Round Table became involved and organised a dig at the site. Five cannons were dug up. Two 12 pounders, two 18 pounders and one 24 pounder. A couple of carronades that had been known to be at the site, and the Russian gun unfortunately were not found. The recovered guns were placed on new carriages in 1982 and returned to public display. The two naval carronnades subsequently ended up in Dover Castle.

For further details see: http://www.kenthistoryforum.co.uk/index.php?topic=8898.0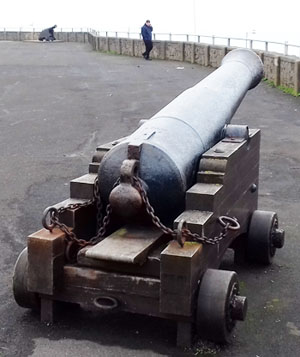 In 2018 during a field research visit, it was apparent that the original Crimean Cannon still lay undiscovered, buried, possibly in the caves under the cliffs east of Margate. Not only that but only two of the rediscovered cannons were to be found (see picture left), the rest having 'disappeared' in recent years. These were the two Hodges Cannon originally unearthed and restored that can be seen in the pictures above and left. They are now sited once again on Fort Green overlooking the cliff near the Winter Gardens. What was particularly interesting was that the original plinth for the Crimean Cannon was positioned adjacent to one of the Hodges Cannon. It reads: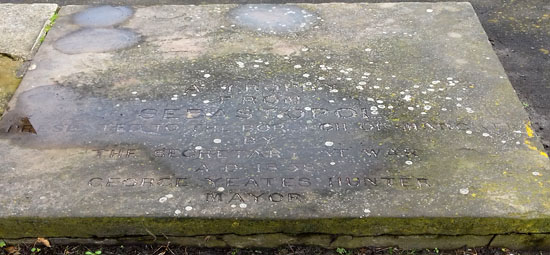 A TROPHY
FROM
SEBASTOPOL
PRESENTED TO THE BOROUGH OF MARGATE
BY
THE SECRETARY AT WAR
AD 1858
GEORGE YEATES HUNTER
MAJOR



Alas that is all that can be seen of the Russian Cannon from the Crimean War in Margate. We are however grateful to Ian Dickie of Margate Museums Trust for the guidance he has given in piecing together the story of the Crimean Cannon.





Website: Click Here

ADDITIONAL INFORMATION













LANDSCAPE

City Centre, Coastal

REGION

England - Southern

THE FEATURES PRESENT

Crimean Cannon Location, past or present