CRIMEAN CANNONS - WHERE ARE THEY NOW?

The Battery
Wharton Park
North Road
Durham
County Durham
Great Britain
DH1 4RS


Wharton Park hugs the hillside to the north of the city centre. Known as Windy Hill the land was a gift to the people of Durham. The park has commanding views of the Castle and Cathedral - a view 19th century philosopher John Ruskin reportedly described as "the eighth wonder of the world". The park has recently seen a major restoration reopening in 2016.

There has been a formal park at the present site since 1857 with its history being both colourful and diverse. Wharton Park was created by William Lloyd Wharton (1789-1867). He inherited what at the time was rough land on which the park and railway station was subsequently built. After the railway was constructed in 1857, William Lloyd Wharton turned the rough land north of the railway into a public park and had the mock castle built as a look out over the railway and the city. Both the railway station and the park opened in 1857.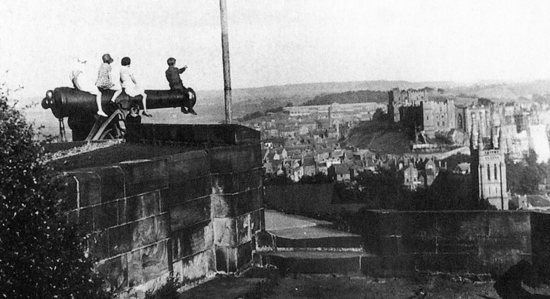 The mock castle soon became known as the Battery, when a Crimean War Sebastopol gun was located there in 1858. William Lloyd Wharton continued to own and run the park, using it to hold public events. From 1859 this included the Wharton Sports events held in the park, attracting large crowds of spectators as well as visiting teams. Many people travelled to Durham by train. Unfortunately, long after Wharton's death, the cannon from the Battery was removed for war salvage in WWII.

Durham Council first took over the park in 1915. The park occupies 4.3 hectares of land. Today the battery in the park is grade two listed and described as follows: Belvedere and gun emplacement. 1858 gift to city from W.L. Wharton. Coursed squared sandstone retaining wall with ashlar parapets. 2 platforms linked by walkway. Battlemented parapets, stepped at left turret, and corbelled walkway; chamfered copings.
ADDITIONAL INFORMATION











LANDSCAPE

City Centre, Upland

REGION

England - Northern

THE FEATURES PRESENT

Crimean Cannon Location, past or present