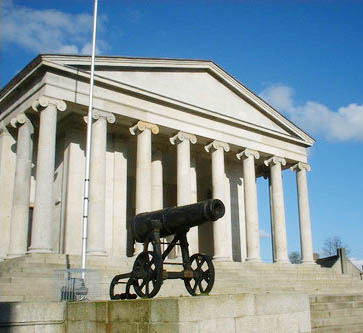 CRIMEAN CANNONS - WHERE ARE THEY NOW?

Courthouse
Court Place
Graigue
Carlow
Leinster
Ireland
Telephone: +353 59 915 3100

Carlow people enjoy the tradition that the courthouse was really intended for Cork, but that the plans got mixed up to the advantage of Carlow. Carlow Courthouse is one of the finest 19th century buildings in Ireland and a significant example of European Neo-Classicism. This is a polygonal classical building dating from the 1830s, and it was designed by William Vitruvius Morrison. The building cost thirty thousand pounds to build which was a small fortune at the time but was considered justified in the early 19th century given the brilliance of the design and the lavish features. It finally opened in 1834.

The cannon that stands at the top of the courthouse steps is intrinsically linked with the history of the building. The cannon is Russian, captured during the Crimean war in the 1850s. The Town Commissioners of Carlow made representations to the then British Minister of War, the Right Hon. Lord Panmure, who donated it to the borough on the understanding that it would be placed in a conspicuous position. The gun commemorates all those Irish officers and men who died in the conflict.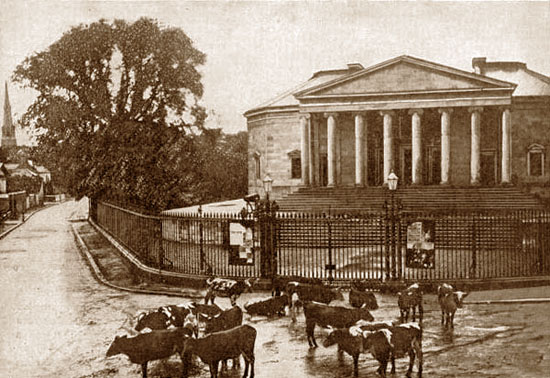 Minutes exist of discussions surrounding the proposal for the project by the Carlow Town Commissioners and the "Morning Post" carried reports of the ongoing negotiations with the War Office during 1858. It was agreed to furnish a gun but reported that they were unable to obtain a carriage and suggested that a suitable alternative could be sourced. Presumably that course was adopted and later that year the cannon, now disabled, was installed in its conspicuous position. Here it has remained to this day never again to fire a shot in anger.





ADDITIONAL INFORMATION












FACILITIES

Access all Year, Access by Road, Access on Foot

LANDSCAPE

City Centre

REGION

Ireland

THE FEATURES PRESENT

Crimean Cannon Location, past or present