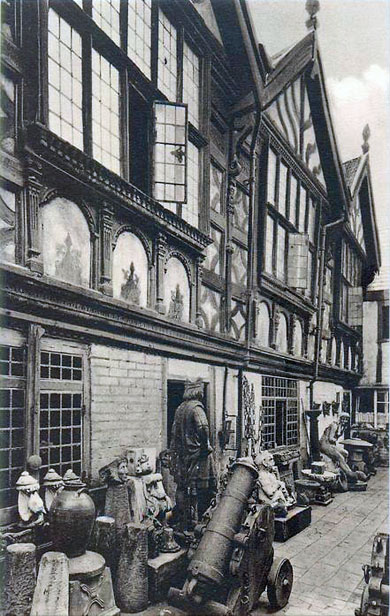 CRIMEAN CANNONS - WHERE ARE THEY NOW?

Grosvenor Park at
9 The Groves
and Stanley Place
Chester
Cheshire
Great Britain
CH1 1SD


Grosvenor Park is located alongside the River Dee.

In Grosvenor Park there is a plinth and statue to the 2nd Marquess of Westminster. Sharing the plinth were once two Russian and two Boer War guns. The Russian ordnance had arrived in June 1857 when bands and bunting celebrated the occasion. They survived nearly 100 years until melted down for scrap in World War II.

We have been unable to further verify the above or secure a verifiable picture unfortunately. However the following and the picture right may be a clue to what happened to Chester's cannon:

The illustration right is of Stanley Palace at 83 Watergate Street, Chester. It is recorded in the National Heritage List for England as a designated Grade II listed building. Built as a town house for Sir Peter Warburton in 1591, it has since been apartments, a boys' school, and a museum.

Stanley Palace was built in 1591 on the site of the former Dominican Friary. It was built as the town house for Sir Peter Warburton, a local lawyer and Member of Parliament. When he died in 1621 the house was inherited by his daughter. She married Sir Thomas Stanley who gave his name to the house. After the Civil Wars James Stanley (The 7th Earl) was held under arrest at the house, and transported to Bolton for execution. Part of the house was demolished and the southwest wing was rebuilt in the early 18th century. The house then ceased to be a mansion house and by the early 19th century it had been divided into apartments and its condition was deteriorating. It was bought by the Chester Archaeological Society in 1865 and during the 1870s housed a boys' school. The building was sold to the 15th Earl of Derby in 1889. In the early 1920s the building contained 'a museum of 1,000 curios'. The house was given to Chester Corporation in 1928 and the north wing was rebuilt in 1935.

The above picture appears to date from about the time the house was 'a museum of 1,000 curios'. In the foreground is a cannon and looking carefully a second cannon is just showing to the right. Were these two of the Grosvenor Park Cannons donated to the museum along with other artifacts and treasures shown in the above picture?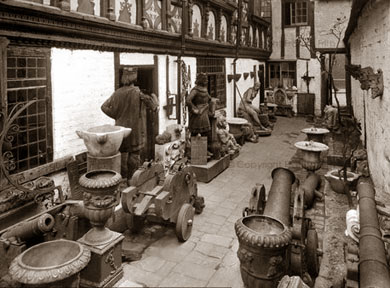 This would have been seen as an appropriate place to look afer them and so were all four Chester cannons deposited at the museum? If so what happened to them when the building passed to the Chester Corporation in 1928. Were they displayed there until the WWII scrap collection?

The second lower picture dated 1923 appears to confirm this theory. Careful inspection enables four cannon barrels to be seen amidst the other artefacts. On the left is a cannon on a carriage and a carriage without its cannon (in the top picture the cannon is on this carriage). The displaced cannon is on the ground to the right, beyond the second cannon on a carriage on the right. Against the wall is a further long cannon with no carriage. This means that four cannons were in the collection photographed, the same number as were once in the park! Is this them?





ADDITIONAL INFORMATION












LANDSCAPE

City Centre

REGION

England - Central

THE FEATURES PRESENT

Crimean Cannon Location, past or present