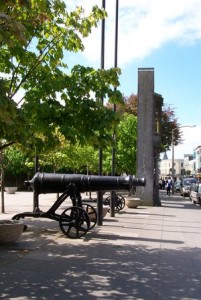 CRIMEAN CANNONS - WHERE ARE THEY NOW?

formerly in Eyre Square
Kennedy Park
Galway
Ireland


Galway, a harbour city on Ireland's west coast, sits where the River Corrib meets the Atlantic Ocean. The city's hub is 18th-century Eyre Square, a popular meeting spot surrounded by shops and traditional pubs that often offer live Irish folk music. In the square could once be seen the two Crimean Cannons.

In spite of local opinion being vociferous about the cannons, with them Galway honours the Connaught Rangers, many of whose members came from the west of Ireland. Galway has a number of associations with the regiment, not least Renmore Barracks, which was the regimental headquarters. There are also banners in St Nicholas' Collegiate Church and, most obviously, the pair of cannon historically resting in Eyre Square.

Presented to the town commissioners on August 3, 1857, the two guns were originally placed either side of the entrance to the Railway Hotel, formerly the Great Southern and later the Meyrick Hotel, These cannon were described as 64 pounders of a heavy and clumsy description, each weighing two tons, and were part of a large amount of Russian ordnance which fell into the hands of the 88th regiment during the Crimean War. The guns were removed to a barracks in Athlone in 1866 in case they were used against the British. They were returned to the top of the park in Eyre Square two years later, where they remained until the early 21st. century.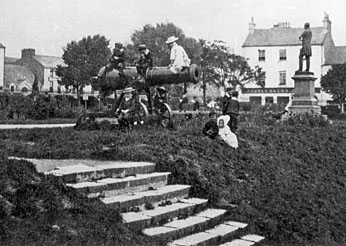 Situated at the top of Eyre Square, beside the Browne Doorway, the two large, cast-iron cannons made an impressive spectacle and had been there for longer than many of the other memorials in the square. The cannons were received in honour of the Connaught Rangers, an Irish Regiment in the British Army, after the Crimean War of 1854-1856. The Rangers had played a major part in the Alma Valley Battles in 1854. They were presented in recognition of the Rangers' military achievements during the Crimean war, and have been a source of pride and controversy to Galwegians for many generations.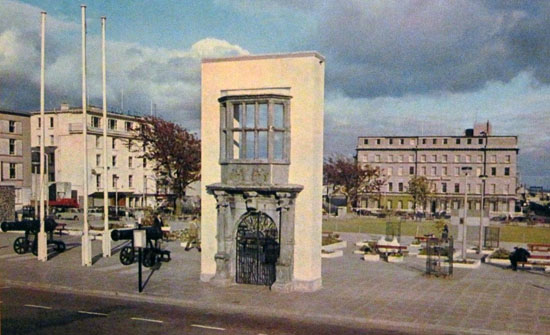 The Robins database records the two cannon as follows:

19??? - 1824 a 24 pdr.
20346 - 1826 a 36 pdr.

So where are the cannons now? They are certainly no longer in Eyre Square. Now somewhat out of the limelight, they are still available for public viewing and appreciation. To find them go to the Council Offices located in College Road. Here the two cannon can be seen on the lawn that fronts the offices. The full address is: Galway City Council, 10A College Rd, Galway, H91 F798, Ireland - see picture below.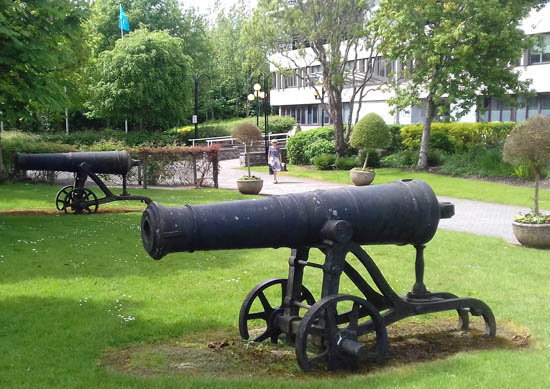 ADDITIONAL INFORMATION










FACILITIES

Access all Year, Access by Road, Access on Foot, Free Entry, Restaurant/Food, Tourism Information

LANDSCAPE

City Centre

REGION

Ireland

THE FEATURES PRESENT

Crimean Cannon Location, past or present