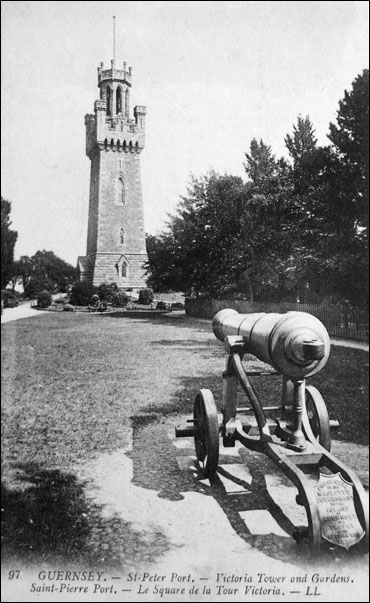 CRIMEAN CANNONS - WHERE ARE THEY NOW?

Castle Cornet
St Peter Port
Guernsey
Channel Islands
GY1 6JN


Two cannon from the Crimean War were originally located at the Victoria Tower. This is a monument in Saint Peter Port, Guernsey, erected in honor of a visit by Queen Victoria and Prince Albert to the island in 1846.

Picture right - Crimean Cannons at the Tower.

The site chosen for the Victoria Tower was a mound opposite the Arsenal, where Guernsey's militia were housed. On 27 May 1848 the first foundation stone was laid by the Governor of Guernsey, Major General John Bell, during a large ceremony. A public garden around the tower was later created, in which were placed the two cannons captured from the Russians during the Crimean War. These were subsequently moved to the ramparts of Castle Cornet where there is a collection of cannon. In 1999 structural problems led to the Victoria Tower being closed to the general public; it was re-opened on 24 May 2006, the birthday of Queen Victoria.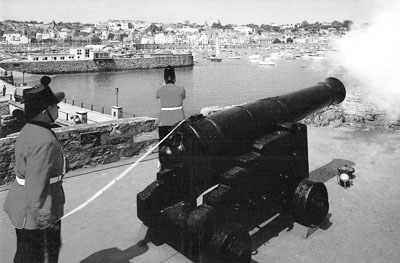 Picture above - Midday gun fire at St Peter Port
from the castle ramparts.



Castle Cornet is a large island castle in Guernsey, originally a tidal island. It is also known as Cornet Rock or Castle Rock. It became part of one of the breakwaters of St Peter Port's harbour, the main sea port on the island, in 1859. Cornet Castle is a must see when you visit Guernsey Island. The cannon is fired at 12 noon everyday to the delight of the children and adults. The tea room serves tasty sandwiches and salads with sea view outdoor seating. There are five museums located within the caste including a Maritime Museum.





ADDITIONAL INFORMATION













CONSTRAINTS

Open set times only

FACILITIES

Access all Year, Conducted Tours of Locality, Entry Fee, Part of a larger tourism attraction, Restaurant/Food, Retail Souvenir Shop, Toilets, Tourism Information, Weddings venue

LANDSCAPE

Coastal

REGION

Channel Islands

THE FEATURES PRESENT

Crimean Cannon Location, past or present