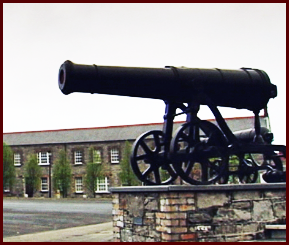 CRIMEAN CANNONS - WHERE ARE THEY NOW?

Croppies Memorial Park
Wolf Tone Key
Dublin
Ireland
Dublin 7


Formerly located opposite Frank Sherwin Bridge at Wolfe Tone Quay, the 0.25 hectare Croppies Memorial Park was named in 1983 after the Croppies of the 1798 Rebellion. The nickname was given to Irish rebels fighting for independence from Britain who were executed in the vicinity. The term 'Croppy Boy' was said to emerge from a hairstyle popular with revolutionaries of the day.

At one time the park was known as the Crimean Trophy Plot because of the presence of Russian artillery guns captured during the 1854-56 Crimean War. Four large cannon, two mortars and assorted shot and shells arrived on the 26 September 1857. These were artefacts from the Crimean War and were allocated to Dublin amidst some confusion and debate by both dispatchers and recipients as to where and when they were to be displayed. After arrival they were relocated several times before a final resting place was established. Eventually in 1866 a gun platform was constructed in the park to display the collection of cannon guns and cannon balls that were also captured by the British Army during the Crimean War.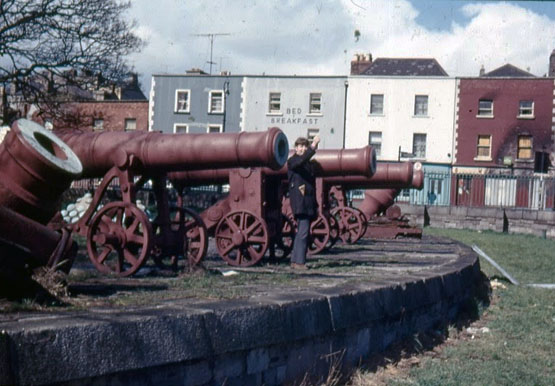 All six guns in Croppies Park 1967



The park site was originally part of the Military Recreation Grounds attached to the adjacent Robins (formerly Royal) Barracks. Acquired by the Wide Streets Commissioners, the area was owned from 1860 until 1969 by the Office of Public Works when it passed to Dublin Corporation who upgraded the park in 1983.

About 1970 concern was being expressed about the maintenance of the display. Blame was being put by the public on the military establishment nearby. The cannon were as a result removed and apparently discarded on waste ground nearby, albeit temporarily. Arrangements were then made by the Dublin Corporation to relocate the cannon and with the help of the military they were transferred to the interior of the military establishment. Today they are supposedly in storage, possibly at the military establishment, awaiting an appropriate opportunity to once again be displayed in all their glory.

The Robins database records the following six guns in Dublin.

551 - 1807
1337 - 1811
24356 - 1835
25116 - 1836
30192 - 1847
30231 - 1847

Huddie records them as four Russian 36lb naval guns on replica carriages and two 13 inch iron mortars.

The present exact whereabouts of all six guns today is uncertain. In the picture above at the top of the page, are two of the cannon in the main square Cathal Brugha Barracks, Dublin, where they can be seen.

A detailed history of the 6 cannon by Paul Huddie can be found in Dublin Historical Records Vol. 67 pp 6-18, a copy of which can be viewed on-line in the JSTOR archive. The synopsis paragraph, reproduced below, summarises the guns location as in 2014.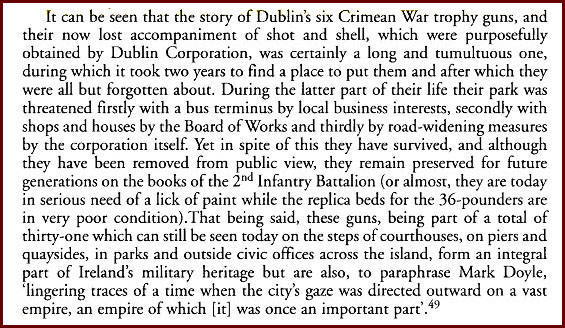 Website: Click Here

ADDITIONAL INFORMATION












LANDSCAPE

City Centre

REGION

Ireland

THE FEATURES PRESENT

Crimean Cannon Location, past or present