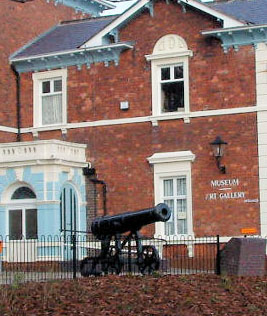 CRIMEAN CANNONS - WHERE ARE THEY NOW?

Newcastle Museum and Art Gallery
Brampton Park
Newcastle-under-Lyme
Staffordshire
Great Britain
ST5 0QP
Fax: (435) 259-3016


The cannon dates from 1840 and was captured at the end of the Crimean War c.1856. It was presented by Samuel Christy MP to the Borough of Newcastle-under-Lyme. The dent on the muzzle face is impressive, presumably left either by a grapeshot or small calibre gun when in action during the Crimean War. Overall it weighs 2.3 tons and fires a 56 lb shot.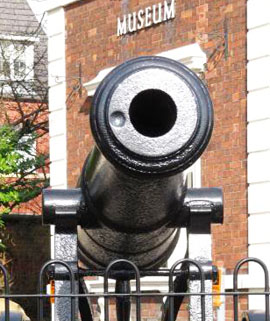 Having survived the WWII scrap metal drive it was displayed in Stubbs Walks, a local park, Victoria Road, from 1857. The cannon was then moved in 1965 to a new position in Stubbs Walks from its earlier position opposite the former Orme Girls School. More recently, after a restoration, it was newly located to outside Newcastle Museum and Art Gallery in 2002. The building now occupied by Newcastle Museum and Art Gallery was originally known as 'The Firs'. This large house was home to the Mosley family, who ran a drapery business in Newcastle. The Borough Council acquired the house in 1956 and shortly after opened it as a museum and art gallery. The museum is in Brampton Park, on the A527 from Newcastle town centre heading towards Wolstanton and May Bank.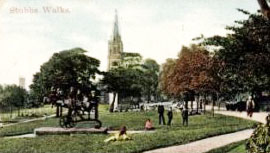 Pictures above: The cannon outside the museum where it can be seen to this day. Right: The cannon with children climbing on it in Stubbs Walks.









Website: Click Here

ADDITIONAL INFORMATION













CONSTRAINTS

No Pets

FACILITIES

Access all Year, Access on Foot, Disabled Access

LANDSCAPE

City Centre

REGION

England - Northern

THE FEATURES PRESENT

Crimean Cannon Location, past or present