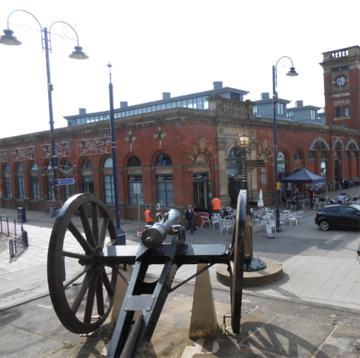 CRIMEAN CANNONS - WHERE ARE THEY NOW?

Town Hall
Market Place
Ashton-under-Lyne
Greater Manchester
Great Britain
OL6 6DL


In 2007 a military arms enthusiast was given the specialist task of replacing two historic Russian cannon which once stood on the steps of Ashton Town Hall. He restored a pair of similar big guns, which were donated by the army in Wrexham. As a result now the relics have taken pride of place outside the entrance of the Museum of the Manchester Regiment at the former town hall building. It is believed the original cannon belonged to the Russian artillery and found their way to Ashton at the request of the then MP, Hugh Mason, after being seized in the Crimean War.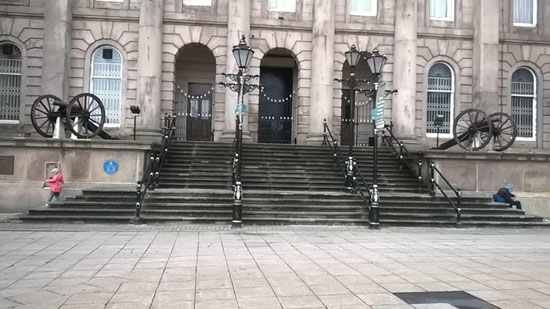 However the Crimean Cannon were transferred from their town centre site in 1915 to the Ladysmith Barracks in Mossley Road where, it is thought, they remained until removed for scrap metal during WWII. The replacement models which are Turkish cannon, were taken by the 2nd Battalion of the The Royal Welch Fusiliers at the occupation of Crete in 1898. Subsequently they were presented to the trustees of the Manchester Regiment in 2002.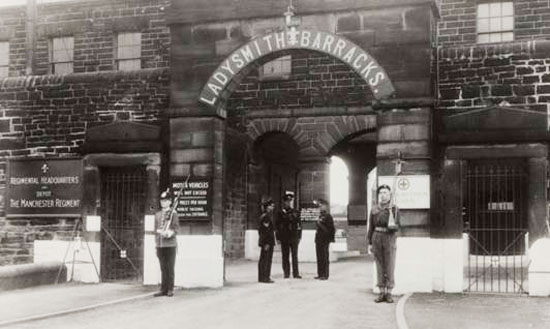 The Ladysmith Barracks were originally established under the name of Wellington Barracks, as accommodation for cavalry regiments between 1841 and 1843. In 1873 a system of recruiting areas based on counties was instituted under the Cardwell Reforms and the barracks became the depot for the 63rd (West Suffolk) Regiment of Foot and the 96th Regiment of Foot. Following the Childers Reforms, the 63rd and 96th Regiments amalgamated as the Manchester Regiment with its depot at the barracks in 1881. The name of the barracks was changed to commemorate the actions of the Manchester Regiment at the 1899/1900 Siege of Ladysmith during the Second Boer War.

During the Second World War the Ladysmith Barracks served as home to the 14th Technical Training Centre of the Royal Electrical and Mechanical Engineers. The Manchester Regiment amalgamated with the King's Regiment (Liverpool) to form the King's Regiment in 1958 and the barracks were decommissioned. The Ladysmith Barracks were demolished in 1985 and the site was subsequently redeveloped for residential use.

Unfortunately the two original Crimean Cannon, once displayed in the town centre, ended up as scrap metal during the second world war. A blue plaque to honour the men of Tameside who served in the Crimean War is located on Alma Bridge linking Ashton and Dukinfield.





ADDITIONAL INFORMATION













LANDSCAPE

City Centre

REGION

England - Northern

THE FEATURES PRESENT

Crimean Cannon Location, past or present