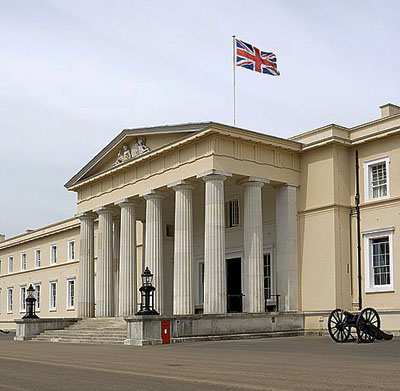 CRIMEAN CANNONS - WHERE ARE THEY NOW?

Royal Military Academy
Sandhurst
London Road
Camberley
Surrey
Great Britain
GU15 4PQ
Telephone: 01276 63344



There are three Russian Crimean Cannon in the extensive grounds of Sandhurst Academy. These are part of a much larger collection of armaments that grace the grounds. All three Russian guns are mounted on original Veglov rear-chock iron garrison carriages.

The first of these three cannon can be seen at the north-eastern far end of the the Old College Headquarters building (illustrated above) next to a Dutch cannon and is an iron 40 pounder Licorne. It dates from 1838 and was one of many taken on 16 August 1854 when Admiral Sir Charles Napier's forces captured Bomarsund, the Baltic fortress, during the Crimean War. As a result the Russian fleet were trapped in the Baltic sea.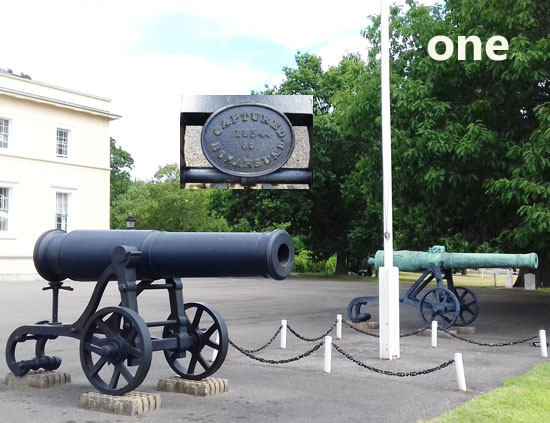 The second iron 40 pounder Licorne cannon can be seen at the other end of the Old College Headquarters building, next to a Saxon gun. Manufactured in 1833 the Russian cannon was captured at the siege of Sevastopol in 1855 by the British. Sevastopol eventually fell on the 8 September 1855 leading to the end of the war and an Allied forces victory.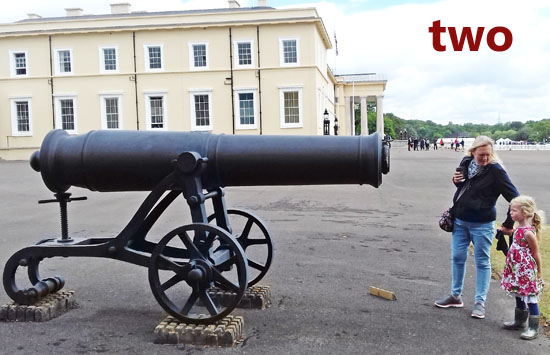 The third Russian cannon at Sandhurst is at the gateway on to the A30 London Road. Take the track south-east from the Old College Headquarters, past the lake and it will be seen on your left as you approach the entrance gates. This is an iron 24 pounder from the Crimean War and was produced by Charles Gascoigne at the Alexandrovski Factory in Russia in 1803. Like the other cannon it sports the Russian Imperial Eagle cast on to the barrel.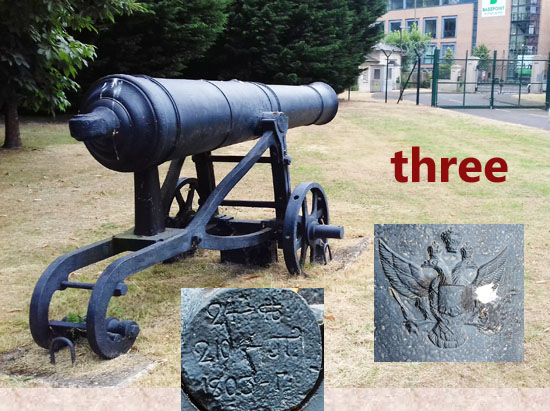 For more than two centuries the Old College Headquarters has been part of the military establishment at Sandhurst. The building was built for the original Royal Military College and completed in 1812 to the design of the famous architect James Wyatt. Its completion coincided with the battle of Salamanca in which Wellington's army finally destroyed the legend of French invincibility, so brilliantly confirmed three years later at Waterloo. Six brass Waterloo cannon now stand along the front of the building. In 1812 the Military College Junior Department, set up to train Officer Cadets for commissions in the Cavalry and Infantry, moved in. Thereafter Sandhurst has and continues to perform a key role in military training as well as being headquarters for the Ghurkhas.

Do note that access to the grounds at Sandhurst is strictly limited with armed guards at key locations.
ADDITIONAL INFORMATION











CONSTRAINTS

On private property, Open set times only

LANDSCAPE

Park or Garden

REGION

England - Southern

THE FEATURES PRESENT

Crimean Cannon Location, past or present