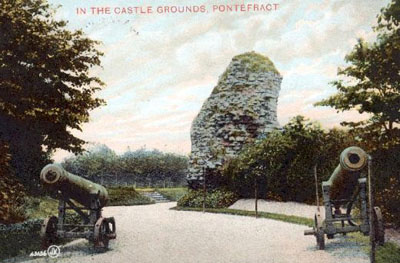 CRIMEAN CANNONS - WHERE ARE THEY NOW?

Castle Grounds and Museum
Pontefract
Yorkshire
Great Britain
WF8 1BA
Telephone: 01977 722761



Visitors to Pontefract in 2018 will have seen the major renovations being carried out on the remains of the old castle. The castle grounds contain a museum and we are grateful for their input in providing information about their two Russian guns.

Most pictures taken before World War II show a single gun pointing down the drive to what is now the visitor entrance gates. However Pontefract actually had two Crimean Cannon and these were located either side of the drive from the entrance. The above picture verifies this although the precise orientation of the guns, pointing up or down the drive appears to have changed over time. Unfortunately the cannons were scrapped during the second world war and only the former location is now identifiable to today's visitors.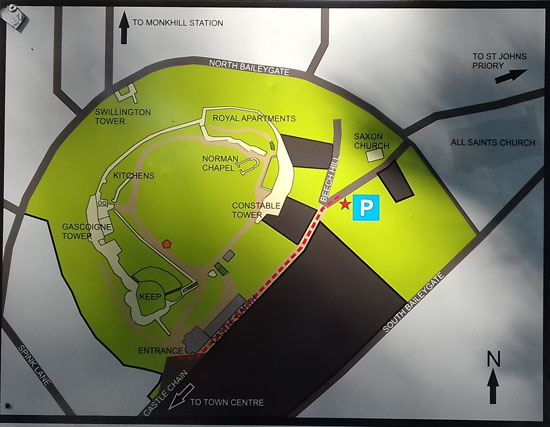 The Norman town of Pontefrete (Pontefract) was known to the Saxons as Kirby. After the conquest however, William the Conqueror passed it to Ilbert De Lacy and the name was changed. De Lacy built the keep which now remains as a ruin. It subsequently passed to the House of Lancaster and played a key role in the Wars of the Roses. During the English Civil War it was the last remaining stronghold of Charles I forces, holding out until after his execution.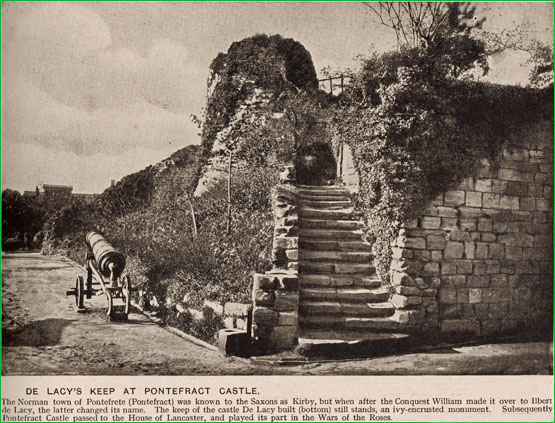 In 2016 seven cannon balls unearthed in the grounds of Pontefract Castle are believed to date from the English Civil War. The weapons were discovered during excavation work as part of a 3.5m pounds restoration of the castle. Each ball is a different size, suggesting the castle was targeted with different guns at various times during the nine-year conflict. After conservation, it is hoped they will go on display as part of a new visitor centre created by the Key to the North project, funded by Wakefield Council, the Heritage Lottery Fund and Historic England.





ADDITIONAL INFORMATION













CONSTRAINTS

Open set times only

FACILITIES

Access all Year, Access by Road, Access on Foot, Free Entry, Part of a larger tourism attraction, Retail Souvenir Shop, Toilets, Tourism Information

LANDSCAPE

City Centre, Park or Garden

REGION

England - Northern

THE FEATURES PRESENT

Crimean Cannon Location, past or present