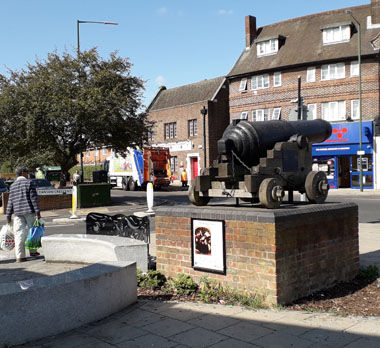 CRIMEAN CANNONS - WHERE ARE THEY NOW?

Danson Crescent
Welling Corner
Welling, Borough of Bexley
Kent
Great Britain
DA16 2AR


Welling is a typical 20th century busy urban town with a totally out of character cannon on its main shopping centre street junction. Welling lies about 10 miles south-east of Charing Cross, London.

Crimean war cannon, with an information plaque and some seating and plants. Central to shopping area. Seats to rest on between shopping areas. plants surrounding seats. recently replanted. Bit of a strange place for it to be honest, I have always lived in Welling and don't know the connection between a quiet London suburb to a war in Russia. Lovely memorial of war, although in a very odd place at the end of Danson Crescent. Not really appreciated by high-street shoppers. Probably not worth going too far out of your way to see it, but if you are nearby it's worth a look. Holds a place in my heart as a childhood meeting place - "see you at 5 by the cannon". The centre-piece is a Russian Iron 36 Pounder Cannonade, which was brought back by British troops at the end of the Crimean War. Wife's grandson was doing a project at school and a trip to the Imperial War Museum was out of the question due to time constraints, he wanted to play football and I wanted to go fishing! Then I remembered Welling Corner = Problem solved! It's worth bearing in mind what we have on our doorstep sometimes. If you take the time to look at the seats themselves, you'll see animal shapes, these represent the countries involved in the Crimean War; a Lion for England, Bear for Russia, Rooster for France, and Turkey for the Ottoman Empire.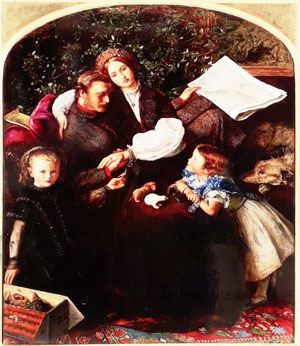 These animal representations also appear in the painting on the side of the wall, with two plaques telling the history and reasons for its existence.

The above reflects actual public comment and opinion on this unusual feature in the town centre. The good news is that it has survived the intervening years since the Crimean War. Now it is a landmark that renders the town distinct from what no doubt would otherwise be indistinguishable from countless towns elsewhere.

Designs for the area around the cannon originated in 2012 from St Stephens Primary School. "Peace Concluded" by Sir John Everett Millais in 1856, depicts a wounded soldier recovering at home. The children have been playing with Noah's Ark and the animals represent the countries that participated in the Crimean War, now reflected in the seat decoration around the cannon.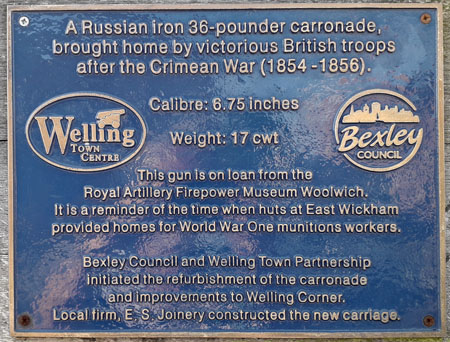 The large Russian gun is a 36-pounder carronade (calibre 6.75 inches - weight 17 cwt) of a type used during the Crimean War (1854 to 1856), displayed on a simple wooden replica carriage. The carronade was in service from 1780 to 1860 and is now on loan from the Royal Artillery Museum in Woolwich as a reminder of Welling's early association with the Royal Arsenal, Woolwich, when huts at East Wickham were built as homes for munitions workers in the Great War. This suggests that the cannon first located in Welling shortly after WWI.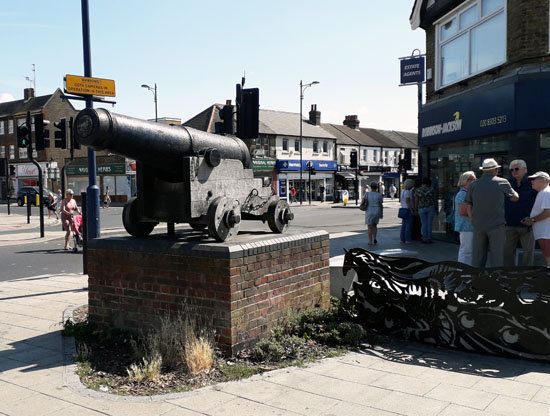 Meeting at the Gun - a group of senior citizens continue to find a use for the landmark!




ADDITIONAL INFORMATION











FACILITIES

Access all Year, Access by Road, Access on Foot, Disabled Access, Free Entry, Restaurant/Food

LANDSCAPE

City Centre

REGION

England - Southern

THE FEATURES PRESENT

Crimean Cannon Location, past or present