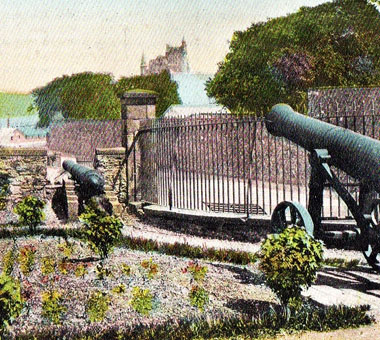 CRIMEAN CANNONS - WHERE ARE THEY NOW?

Londonderry
Co. Derry
Northern Ireland


Derry, also known as Londonderry, was originally a walled city that lay on the west bank of the River Foyle. Today the river is spanned by two road bridges and one footbridge. The city now covers both banks (Cityside on the west and Waterside on the east). It is known for the intact 17th-century Derry's Walls with it's 7 gates. Within the walls, spired St. Columb's Cathedral displays artefacts from the 1688-9 Siege of Derry. Near the Peace Bridge, the Tower Museum has city views and historical exhibits.

The city claims to have Europe's largest collection of cannons, whose origins are known precisely. Many of them were used in the two seventeenth century sieges that occurred in Derry City. In 2005 the surviving 24 cannons were restored. Craftsmen cleared the barrels from centuries of rubbish, stripped off layers of paint and corrosion, and bathed, sponged and waxed the cannons back to their former glory. The cannons are displayed throughout the City Walls with the impressive Roaring Meg located on the Royal Bastion.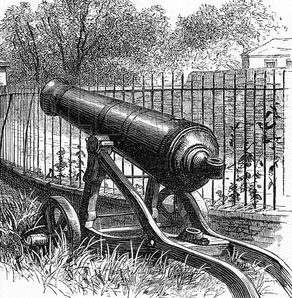 The Crimean Cannon was installed in Londonderry on 2nd January 1860, following the allocation of such spoils of the Crimean War. It is one of a number of cannon located around the Royal Bastion and should not be confused with nearby Roaring Meg, a nickname for a cannon of different provenance. The pictures left and above show the cannon on the right hand side.

In May 2006 The Guardian carried the following news. "Derry puts cannons back in place"

Decommissioning weapons may be the political imperative for Northern Ireland, but Derry yesterday took delivery of a battery of cannons, including a ship's gun carriage, and hoisted them on to the city's fortified walls. The last batch of restored culverins, falconets, minions, sakers and demi-cannons, dating back to 1590, were formally handed over to complete a conservation programme preserving the defences which held out against successive Irish and Jacobite armies.

The ceremony in the Guildhall Square marking the occasion was an opportunity for civic leaders to commemorate historic ties with the City of London, at a time when they are intent on shedding the nominal link. Derry city council, controlled by nationalist and republican parties, wants the city to revert to the ancient name of Derry instead of Londonderry - the title it acquired in 1610 when King James I granted trading companies from the City of London the rights to a settlement.

The turbulent history of Derry/Londonderry has cast a long shadow, reinforcing centuries of sectarian division. The cannons are being restored for "tourism purposes" only, insisted Mark Lusby, an economic development officer with the council.

News in 2013 included the story that the Apprentice Boys discovered four additional hidden cannon in their Londonderry headquarters. The cannon were discovered walled up by a member of the Apprentice Boys in the basement of the memorial hall at Society Street in November. One theory is that they were hidden in a bid to prevent them being melted down during the Second World War.





ADDITIONAL INFORMATION













FACILITIES

Access all Year, Access on Foot

LANDSCAPE

City Centre, Park or Garden

REGION

Ireland

THE FEATURES PRESENT

Crimean Cannon Location, past or present