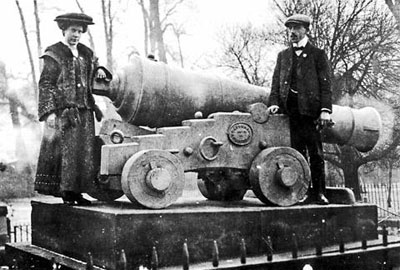 CRIMEAN CANNONS - WHERE ARE THEY NOW?

The Blue Bridge
York
Yorkshire
Great Britain
YO10 4AP


The Blue Bridge crosses the River Foss just above its confluence with the River Ouse. The original bridge on the site was built in 1738, the current one being constructed in 1929-30.

In the early 1730s a section of the eastern river bank of the Ouse was improved, at the expense of the city, to create an area lined with trees along which the citizens could promenade. It proved so popular that within a few years this New Walk was extended further south past the junction with the Foss by way of a wooden drawbridge. This new bridge was painted blue and the colour and name have endured though the bridge itself has been replaced several times.

Just after the end of the Crimean War, in 1857-58 an iron opening-bridge was built replacing the earlier wooden one, along with two stone plinths upon which stood two Russian cannons. These formed York's Crimean War Memorial. The metal guns had been in the Museum Gardens, before being moved with much fanfare on 5 November. They had been captured at the Battle of Sebastopol in 1855 and were 36-pounders, 8 feet and 3 inches long, and weighing just under 3,000 kilograms. They were retained when the current bridge was built in 1929-30 only to be removed in 1941 when they were scrapped and supposedly reused for the war effort.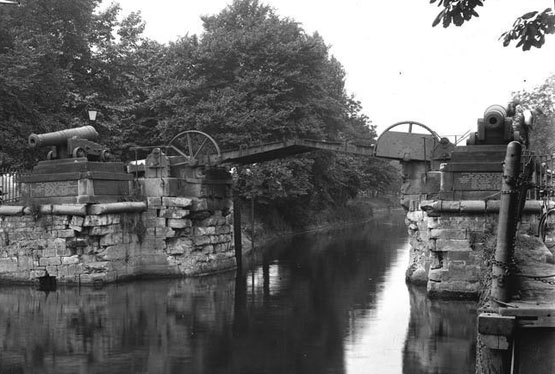 The Blue Bridge with cannon either side guarding the entrance to the Foss.



The Crimean War took place from 1853 until the signing of the Treaty of Paris in 1856 and sprang from a conflict between the Ottoman Empire and Russia over territory around the Black Sea and Danube, bringing Britain, Austria and France into the war to prevent Russia controlling the Dardanelles.





Website: Click Here

ADDITIONAL INFORMATION













FACILITIES

Access on Foot

LANDSCAPE

Inland Water, Urban

REGION

England - Northern

THE FEATURES PRESENT

Crimean Cannon Location, past or present