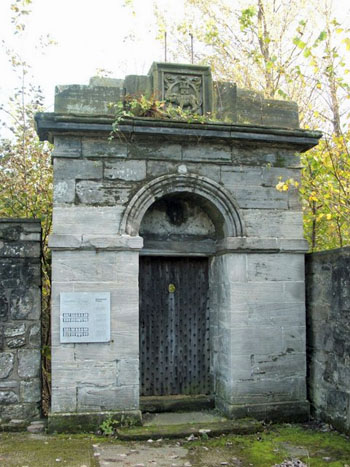 CRIMEAN CANNONS - WHERE ARE THEY NOW?

Dumbarton Prison and County Buildings
Maclean Place
Dumbarton
Dunbartonshire
Scotland




Picture right:
Dumbarton Prison - entrance portico. This is the building's entrance, preserved in its original location. Visible above the doorway is the elephant-and-castle symbol that appears in Dumbarton's coat of arms. Just left of the doorway, a plaque can be seen; this gives a brief account of the history of the prison.

The prison was opened in the rowdy aftermath of the Napoleonic Wars. The last execution took place here in 1875, and after the prison closed in 1883 the building became a Council records store, before lying derelict until demolition in 1973. A portico, Coat of Arms and two cell windows remain in the existing wall. Dumbarton Prison was built in conjunction with the neighbouring County Buildings, which presently serve for the Sheriff Court and Justice of the Peace Court. The County Buildings had their foundation stone laid in July 1824, with work continuing until 1826.

A large-scale Town Map of Dumbarton from 1859 shows the County Buildings before enlargement. As the map sheet shows, a cannon (a "Russian trophy", presumably from the Crimean War) was then present in front of the building.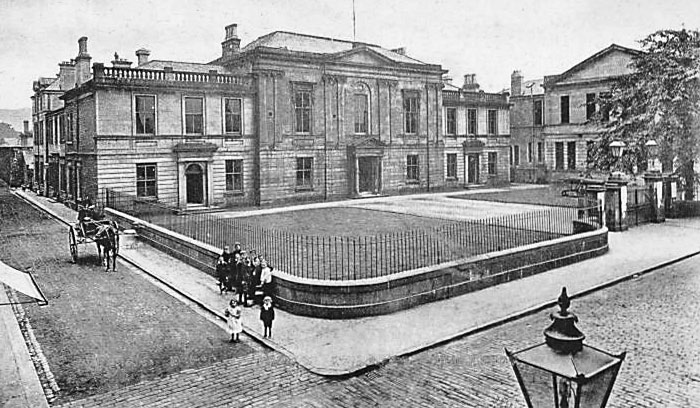 The above shows the location of the Russian cannon on the right. We have not yet been able to ascertain the fate of this cannon.
ADDITIONAL INFORMATION











LANDSCAPE

Country town/village

REGION

Scotland

THE FEATURES PRESENT

Crimean Cannon Location, past or present