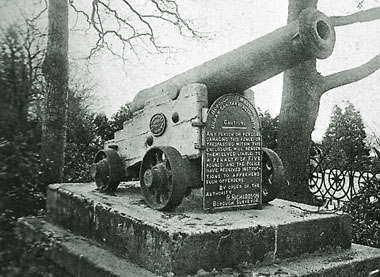 CRIMEAN CANNONS - WHERE ARE THEY NOW?

Yorkersgate (B1248)
Horsemarket Road
Malton
Yorkshire


Malton is a pretty Yorkshire market town, located on the north of the River Derwent on the historic boundary between the North and East Ridings of Yorkshire.

The local paper the Malton Messenger of 12 February 1859 describes the gift to the town of the Russian Cannon. This was orchestrated by Major-General Norcliffe of Langton Hall. Expected soon, a meeting was called on Valentines Day to consider the best site for the 'war trophy'. The Malton Messenger proposed the Market-place but other suggestions included at the top of Yorkersgate or on the old foundry site in Old Maltongate.

Eventually the location chosen was one between the 'Town Hall and Mr Marshall's house' in the Market-place. By April 1859 the cannon was in situ on its permanent pedestal erected in the Market-place. It was expected that an inaugural ceremony would take place very shortly. However the cannon was moved to the end of Yorkersgate in 1883.

Twenty years after its first arrival, a meeting of the Malton Board of Health in September 1879 decided to enhance the Russian Cannon on the revised York-road site with iron fencing and to plant shrubs around it. It was enclosed in iron railings and landscaped by Ralph Yates. A newspaper report later tells of Mr. Yates attending a Local Board meeting in 1888 to enquire about his account due to him for enclosing the Russian cannon and for the general improvement to the approach to the town in Yorkersgate. Although it was some years since the work was carried out he had not received the sum due to him. Mr Yates quotation for this work was originally 15 pounds and he reduced this by 5 pounds as his contribution.

The results of Ralph Yates' efforts can be seen below.

In 1920 the site for a new War Memorial at the end of Yorkersgate was recommended by the Malton War Memorial Committee. This was the same spot that was the Cannon enclosure containing the Russian cannon but more recently a German cannon too. A small number of trees grew on the site and their potential removal to make way for the memorial was a topic of discussion! A proposal to remove the Russian cannon to a site at the top of Newbiggin was made, and one to move the German cannon to an island site in the river. Later in 2017 the site was recommended for revamping, it by then being a general war memorial without the Russian Cannon that it is assumed was taken for scrap in WWII. Today the memorial commemorates the residents of Malton who were killed or missing in World War I (83 names) and World War II (20 names).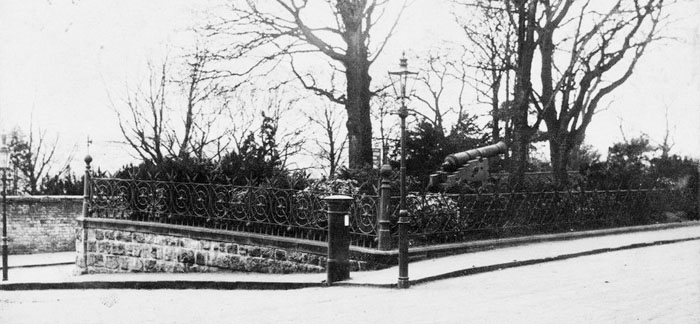 ADDITIONAL INFORMATION











LANDSCAPE

Country town/village

REGION

England - Northern

THE FEATURES PRESENT

Crimean Cannon Location, past or present